For Use with NAMUR Proximity Sensors and Mechanical Switches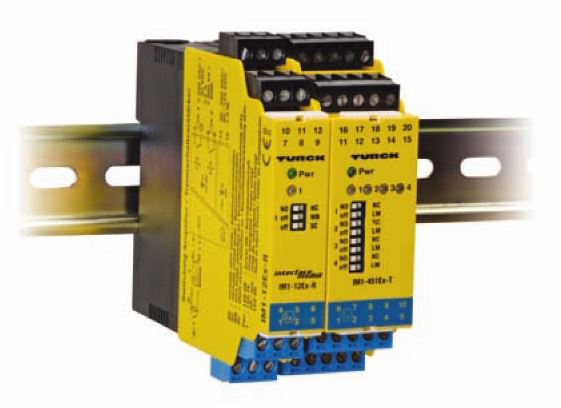 TURCK offers a wide range of isolating switch relays. These devices can serve various applications ranging from a single dry contact switch input with a complimentary dry contact switch output, to four NAMUR proximity inputs and four transistor outputs, while also providing open and short-circuit protection in addition to alarm functionality.

Isolation switch relays may be used in general purpose applications, and most are certified for use in hazardous (explosive atmospheres) areas by various approvals bodies. These devices carry U.S., Canadian and European approvals that may be required in order to cover projects being engineered for use in locations throughout the world. The devices share many common attributes, such as housings and removable terminal connectors. Most are also available with the universal voltage (20-250 VAC/20-125 VDC) required to power the unit. All units have the option for short-circuit and open-circuit (wire-break) protection: a simple series of switches that can be manually configured by the user if the function is to be implemented. A resistor network (WM1 shown in Figure 1) is required to incorporate these functions when using a mechanical (dry contact) switch for the hazardous area inputs.

The IM series of isolation switch relays is designed to handle the vast majority of applications where mechanical switches or NAMUR proximity sensors are used. Short-circuit and open-circuit (wire-break) functions are available for most devices. This function can be implemented by appropriately configuring the switches located on the top of the units. NAMUR proximity switches have no special requirements in order to incorporate this function, simply set the switches to the appropriate positions.

Dry contact (mechanical switches) however, require the use of a resistor network in order for the additional functions to operate properly. The incorporation of a ready made resistor network module (WM1 see Figure 1) is recommended.

This section highlights the devices and provides a simple approach for installing the various models available. Examples of common applications are provided along with simple connection diagrams that allow any user to easily and safely install these devices.

Typical and specific functions for each individual device are highlighted in the "Features" portion of the specification pages. A handy pin-out reference chart is also provided for each device. Input and output common configurations for use with NAMUR proximity sensors and dry contact mechanical switches, are also highlighted in this section.

Common Input Configuration for Proximity Sensors

NAMUR 2-wire proximity sensors are specifically designed to work with TURCK isolation switch relays. No entity calculations are required, as all NAMUR proximity sensors and associated apparatus with NAMUR inputs (TURCK isolation switch relays) are designed to be 100% compatible without the requirement to calculate entity parameters. These calculations are accounted for in the design of both the field devices (proximity sensors) and the interfaces (barriers). All NAMUR proximity sensors are compatible with NAMUR interface devices in all classified areas.

The 2-wire configuration is standardized so the blue wire is always negative and the brown wire is always positive. Reversing these connections will not damage the device, however it will not function. Connection diagrams for individual devices are shown in the product specification description pages.

Common Input Configurations for Dry Contact Mechanical Switches

Simple switch inputs are easily accommodated by the NAMUR input interface units. Switches are not required to be approved as intrinsically safe devices. Simple switches are defined as "simple apparatus" by the national electrical code as: (NEC 504-2)

A device that will neither generate nor store more than 1.2 V, 0.1 A, 25 mW, or 20 μ. Using a simple switch does require the use of a resistor network (WM1) if the short-circuit and open-circuit (wire-break) functions are not used. These functions are not required and can be disabled by simply switching the function "OFF" using the configuration switches on the top of the units.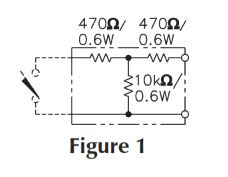 Isolation Switch Relays Part Number Key

Part Number Keys are to assist in IDENTIFICATION ONLY. Consult factory for catalog items not identified.


Extension Examples:

IM1-121Ex-R

Isolation Switch Relay
Interface Module
Single Input
Two Non-Hazardous Area Relay Switches
One Non-Hazardous Area Alarm Switch
Intrinsically Safe Associated Apparatus
Relay Switch

IM1-22Ex-MT

Isolation Switch Relay
Interface Module
Two Inputs
Two Non-Hazardous Area Relay Switches
Intrinsically Safe Associated Apparatus
MOSFET Switch

IM1-451Ex-T

Isolation Switch Relay
Interface Module
Four Inputs
Five Non-Hazardous Area Relay Switches
One Non-Hazardous Area Alarm Switch
Intrinsically Safe Associated Apparatus
Transistor Switch

All IM1-xxx Modules are Equipped With:

Intrinsically Safe Field Terminals
This feature allows the use of any certified NAMUR sensor or dry contact mechanical switch (simple apparatus) to be used in any area classification without risk of explosion.

Universal Input Voltage
This feature allows any power supply with an output of 20-250 VAC or 20-125 VDC to be used to power the units. This provides extreme flexibility in the source power required to operate the units.

Removable "Keyed" Terminals
This feature allows easy wiring. The keyed connectors assure safe and accurate installation. Terminals can be removed and wired without physically making the connections in tight quarters. Cable harnesses that incorporate these connectors can actually be wired outside cabinets, and assembly is completed by plugging in the terminals to the corresponding barrier.
A bus power configuration is also available. That allows several barrier's power connections to be bussed in a daisy-chain configuration, further reducing installation time and wiring. Replacement of units when necessary is also simplified.

Short-circuit and Open-circuit Detection
This feature allows monitoring of field circuits for wire faults. The function is selectable and can be disabled if not required or desired. NAMUR sensors need no accessory to provide the function. Dry contact mechanical switches require a resistor network to properly function. The WM1 resistor network module will provide this function, or a network of discrete resistors can be added by the user. Utilization of a common non-hazardous area alarm circuit signifies a fault in the hazardous area wiring.

N.O./N.C. Configuration
This feature allows the input function to be selected as a normally open or normally closed output. Each channel can be separately configured depending on module type.

Galvanic Isolation
This feature provides isolation between inputs, outputs and the power supply. In some cases, individual outputs are also isolated from each other.

Switching Status and Power Indication LEDs
This feature provides a visual indication for the switching status of each channel. The green LED indicates that the unit is powered. The dual color LEDs indicate switching (yellow) and fault status (red). A fault status on an input disables the corresponding output relay.

Housing Sizes
The size depends on the number of channels. All 4-channel devices utilize the wider 27 mm housing, while the 1 and 2-channel devices are housed in the 18 mm style. Both are the same height, and can be mounted on a DIN-rail or flush mounted on a panel.

Hazardous (Classified) Area
The hazardous area terminals of the IM series switch input isolators are suitable for use with mechanical switch or NAMUR inputs in ALL area classifications. Shown here is the common input configuration for a NAMUR proximity sensor. The wires are color coded and blue is always the (-) terminal and brown is always the (+) terminal. Open-circuit (wire-break) and short-circuit can be configured by the switch settings on the top of the unit, if the unit is equipped with this function. No special conditions are required to incorporate the function when using NAMUR proximity sensors.

Division 2/Zone 2 or Non-Hazardous Areas
IM units are certified to be mounted in a Division 2/Zone 2 area. Units must be housed in an appropriate enclosure suitable for the environment in which they will be installed. Explosion-proof or purged enclosures are not required for use in this area classification with the TURCK IM series.

Non-Hazardous (Non-Classified) Area
Non-hazardous area terminals are designed to be connected to apparatus in a non-classified area.
The equipment may consist of alarm circuits, PLC or DCS controllers or other similar types of equipment.