TURCK is a global leader in industrial automation technology. Over 3,500 employees in 28 countries strive to deliver the best sensor, connectivity, network and interface products on the market. To do this more efficiently, TURCK production facilities are strategically located across the globe, including sites in the United States, Germany, Switzerland, Mexico and China. This also helps TURCK adapt to specific market conditions, as well as bringing product to the market faster.

TURCK strives to provide our customers with not only the best products on the market, but also the best service and support. Our highly trained engineering staff is available to walk you through your system requirements and help find solutions to difficult application problems. Unlike other companies, when you call TURCK, you will always be able to speak directly with an engineer in a matter of minutes! Combine this with a network of 2,000 experts across the United States, and you literally have the finest assembly of industrial automation professionals at your doorstep.

All Panels Are Not Created Equal

TURCK Engineered Packaged Systems (TEPS) is not your typical panel shop. We are experts at our own products, so why not trust your panel needs to those who know the products the best? This experience coupled with a devoted manufacturing area makes our processes fast and flexible, and helps create a seamless partnership to develop your ideal panel. We even have a separate building for storing crates and lumber which keeps our manufacturing space free of sawdust. This allows us to make panels for cleanroom and clean type environments.

Customers in a variety of industries have utilized panels from TEPS:

• Pharmaceutical
• Oil and Gas
• Food and Beverage
• Solar
• Shipbuilding
• Packaging
• Material Handling
• Agriculture
• Tire and Track
• Rail
• Marine
• Automotive

QUALITY WITH FLEXIBILITY

TURCK's industry experience allows TEPS to provide customers with a complete packaged solution by integrating a combination of TURCK and other manufacturer's products. TEPS is fully certified, allowing the group to design and incorporate TURCK interface modules, barriers, and hazardous area distributed I/O products into fully certified intrinsically safe control panels. TURCK is also able to integrate our interface modules and Excom products.

Certifications:

• UL508A is the standard for industrial control panels.
• UL698A is the standard for industrial control panels relating to hazardous (classified) locations.
• UL1203 is the standard for explosion-proof and dust-ignition-proof electrical equipment for use in hazardous (classified) locations.

Enclosure Options
• Polycarbonate
• Glass-reinforced plastic (GRP)
• Powder coated mild steel
• 304 and 316 stainless steel
• NEMA 1, 4, 4x, and 12 protection options
• Customizable enclosure sizes available

TEPS
A Partner for Success

TURCK has a reputation for building reliable global partnerships, and TEPS is no exception. Our TEPS engineers can work with customers in a variety of ways and adapt to whatever best fits their needs. TEPS creates panels populated with TURCK product, as well as product from other manufacturers. As each panel is specified by the customer it is given a unique identifier and bill of materials. The customer can either dictate this or choose to rely on the panel experts at TURCK to create and provide a complete design.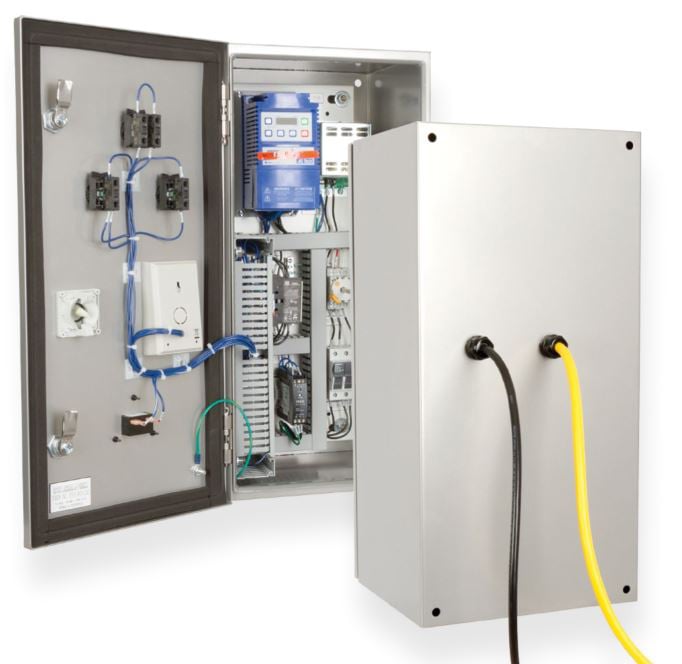 CAPABILITY

Engineering Experts

Listening to customers and developing solutions are part of what makes TURCK fast, flexible and easy to do business with. To go beyond our standard automation solutions, we provide the TURCK Engineered Packaged Systems (TEPS) Group.


Whether you already know the exact requirements of your panel or simply have a problem you need solved, TURCK has built long standing partnerships on providing unsurpassed automation expertise, and our TEPS group is no different.


TEPS uses a dedicated facility for panel building and has a litany of approvals designed to support a myriad of industries, making TEPS a perfect partner for virtually any panel or packaged system.


SOLUTIONS

Build from Print

This option is for customers who know what they need in their panel and already have a design, but are looking for an expert to build the panel so they can rest easy knowing it's done right. With TURCK's expertise and ability to seamlessly integrate our products with those of other manufacturers, customers get a packaged solution to fit their needs; done right and built to last.

Concept to Detailed Design

Some customers know exactly what they need, while others are not so sure. Many customers fall somewhere in between, where they might have a rough layout or even just a napkin sketch of their panel. TURCK's experience allows us to step in at any point during the project and collaborate with customers to create the ideal solution for their applications.

Total Package

In order to take full advantage of TURCK's expertise as an automation solution provider, many customers choose to partner with us from the very beginning of their project. This allows the customer to feel confident that they are receiving a well thought out packaged system or panel, while offering the advantage of working with an industry expert to ensure an optimal solution for their challenges.

"Our design team's experience with control systems and panel design, combined with our expertise in applying TURCK products, allows us to provide an engineered packaged systems solution that is far superior than those provided by a typical panel shop."
- Mark Stremmel - TEPS Manager

SERVICE

We Come to You

TURCK not only offers customers unparalleled panel solutions, we also provide customers with a complete suite of field services for when an in-person visit is needed to get the job done, including:

• Professional on-site installation
• Panel and connectorization optimization
• System start-up assistance
• Trouble shooting

TURCK created TEPS not to simply make and send panels out, but to extend our expertise to customers needing a partner for packaged systems. From solution development and panel construction, to installation and use in the field, TURCK experts are at your ready.