TURCK - Your First Choice in Industrial Automation

TURCK has been providing innovative products that meet the diverse needs of modern industrial automation for over 40 years. As one of the first companies to concentrate on the development of electronic components used for automation processes, we have become a market leader on the forefront of sensor technology.

All of Your Automation Products from a Single Source

TURCK's extensive knowledge of industrial applications allows us to offer products for the full spectrum of automation tasks. Our highly versatile range of sensor, interface and fieldbus products, and an expanding line of connectivity products, allows TURCK to offer highly effective solutions for every possible application.

TURCK products give our customers a competitive edge by providing technologically advanced components that reduce failures and minimize downtime, while contributing to the effective implementation of production processes.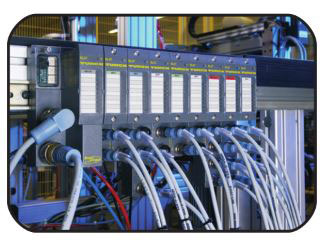 One Step Ahead

Our strategy is simple yet challenging: to provide our customers with high quality products quickly and in a flexible and reliable manner to ensure the efficiency and quality of industrial plants all over the world. Our continuous development of new products - designed to maximize benefits to our customers and partners - proves that we are committed to innovation as a constant process.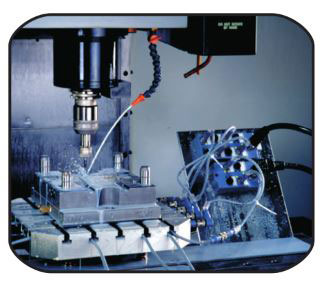 Extended Sensing Distance in a Factor 1 Sensor

Factor 1 is Redefined!

Uprox+ sensors utilize the proven performance of our original Uprox sensors to detect materials such as steel, iron, copper, aluminum, stainless steel and brass without a reduction in the rated sensing distance of the sensor. However, the Uprox+ sensors incorporate a variety of design enhancements that will set new standards for metal detection.

TURCK has developed a newly patented multicoil system for the Uprox+ product line that replaces the conventional wound coil system used in the previous generation of sensors. This results in extraordinary sensing distances (up to 250 percent higher than conventional ferrite core inductive sensors) in a Factor 1 sensor. In addition to the extended sensing ranges, all Uprox+ sensors have an environmental rating of IP 68.

Not only does the new generation of Uprox+ sensors offer unrivaled performance, they also give TURCK the flexibility to incorporate this technology in several new housing designs that solves a number of unique customer applications. Whether for the automotive industry, machine engineering, or for transport and handling applications, our new Uprox+ sensors provide a product that incorporates all of your sensing requirements.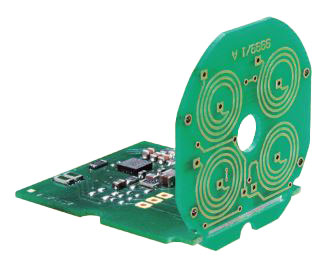 Factor 1 Redefined

Based on their novel coil concept, Uprox+ sensors offer unrivaled performance. The core component of the
new sensor generation is a unique, patented multicoil system, which replaces the conventional wound coil. The extraordinarily high switching distances and the unique housing concept make Uprox+ by far the best sensor available.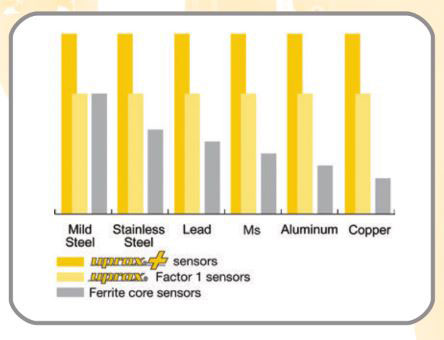 Stands up to Harsh Industrial Environments

Partial Embedding of Non-Flush Mounted Sensors

Uprox+ sensors feature an integrated predamping protection function to reduce the metal free mounting area in an application. This allows traditionally flush mounted barrel style sensors to be recessed in metal by half a turn for increased mechanical protection. It also allows non-embeddable barrel style sensors to be embedded in metal up to the outer edge of the thread, and non-flush rectangular style sensors to be embedded in metal on all four sides with only a slight reduction in sensing distance.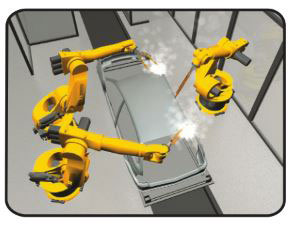 Immunity to High Levels of EMI

All Uprox+ proximity sensors adhere to the present EN50082-2 standard, yet they also exceed the strict provisions required by EN61000-4-6, which will be an integral part of the industry standard from 2006 on. This standard protects against conducted interference from frequency converters and other sources that produce high levels of EMI.

Weld Field Immune

Since the Uprox+ line does not incorporate a ferrite core, it is not susceptible to strong magnetic fields that occur in resistance welding processes, making it inherently weld field immune.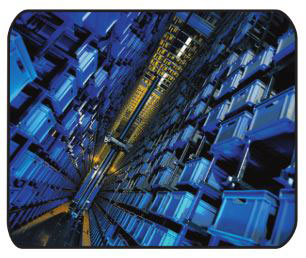 Wash Down Applications

TURCK has also expanded this new Uprox+ line to include a number of sensors designed specifically for washdown environments. These sensors have a newly designed front cap, and a polypropylene connector insert to protect the electronics from water ingress. This added protection provides the sensor with an environmental rating of IP 69K, in addition to the standard IP 68 due to the enhanced pressure rating associated with the Uprox+ sensors. The stainless steel barrel and Liquid Crystal Polymer (LCP) front cap also make these sensors ideal for extremely wet environments found in carwash, breweries, and other high pressure washdown applications.

New Innovative Designs

Flexible Coil Technology Offers Unlimited Possibilities

With the arrival of the patented multicoil design we are able to offer our customers the freedom to incorporate non-traditional housing styles to fit a variety of applications. One example is the new Ni20U-TS12-A(N/P)6X2-V1131. This small rectangular style housing allows our customers to utilize this sensor in small part detection applications without the need to use traditional ring style proximity sensors. Other potential housing designs include a flat sensor for use in conveyor type applications. Unique applications are no longer a problem with the new Uprox+ multicoil concept.

Patented Coil Technology

Since the design of the new Uprox+ sensors does not include a ferrite core and a wound coil, you can profit from a maximum degree of flexibility in the housing design - without any mechanical restrictions.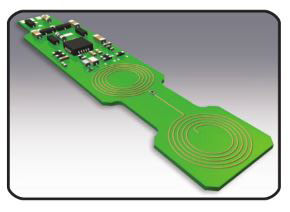 TS12: Sensing Distance vs. Target Size