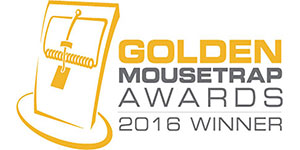 The 15th annual Golden Mousetrap Awards took place in Santa Monica, California on February 9th, honoring the people, companies, and technologies that are driving progress in product design and manufacturing in American business.
TURCK's Uprox3 Sensor Series was nominated in the category of Automation & Control: Sensors, Vision Systems, Feedback Devices, & Peripherals, and we are proud to announce a victory!
With the largest switching distances of all Factor 1 sensors on the market, Turck's Uprox3 series of sensors features an electronic platform that uses the latest chipset and manufacturing technologies.
These technologies are a world first, offering outstanding application reliability and previously unattainable sensing distances in the most demanding industrial sectors.
Turck would like to thank the Golden Mousetrap Awards program for this prestigious honor, and send congratulations to any team member that has worked on the development of the Uprox3 sensor series.