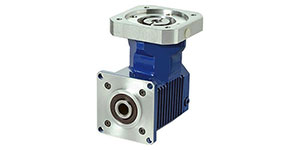 Flexibility combined with a high degree of standardisation, numerous customer options and the focus on maximum efficiency in gear engineering are the most important topics of Vogel Antriebstechnik's presentation at this year's Automatica. The spotlight is on the successful new series of low backlash planetary gearboxes type MPR for servo applications, which has already been widely acclaimed on the market through various innovation prizes.
Using highly specialist engineering methods, the gearbox specialist Vogel has launched the MPR on the market, which has very high precision in this segment. With an extremely low backlash (3 arcmin. in the case of the 1-stage standard version) and high torsional rigidity, the servo gearbox MPR achieves very high efficiency rates of up to 97%, making extremely energy-efficient operation possible.
Customers benefit from savings, at the same time improving their production quality. Thanks to the combination of innovative parts geometry with special helical gear teeth and a set of optimisation measures carried out both on the product and in the manufacturing process, a completely new device concept has been created that has been awarded both the Innovation Prize of the District of Esslingen and the Innovation Prize of the German Initiative for Medium-Sized Businesses.
Thanks to a special modular system the customer also benefits from the economy of a standard solution coupled with a high degree of customised possibilities e.g. 15 standard transmissions, 4 sizes and numerous other options. In addition - as with all Vogel drive solutions by the way "wash-down" versions are also available. These are ideal for use in the packaging machine, food, pharmaceutical and chemical industries. Gearboxes in a special explosion-protected version (ATEX) are also available.