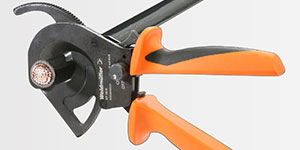 A large number
of
cables and conductors in many different types and designs
are used to connect electrical and electronic components. The cables and wires must be accurately prepared for the various types of connection. The quality of the cutting process is therefore of critical importance. Mechanical efficiency together with the special cutting pattern reduces the manual force required to a minimum.

Weidmüller is a specialist in the provision of tools for cutting copper or aluminium cables. Our product ranges include cutting tools for small cross-sections (with direct transmission of force) to cutting tools for large diameters. Indeed, our wide range of cutting tools fulfils all the criteria for cable preparation; easy to use and giving a smooth, straight cut, without deforming the conductor.

At Weidmüller the term "cutting" refers to the severing of cables, wires and conductors of copper or aluminium with an appropriate tool for the application. The requirement for all cutting tools is to perform a smooth, straight cut without deforming the conductor.

According to DIN 8588, experts differentiate between shear cutting, wedge-action cutting, tearing and breaking. Shear cutting is employed particularly in the cutting of cables, wires and conductors. Cutting tools with cross blades should perform an oblique cut and operate without play.

The essential quality characteristics for professional cutting tools are a cutting edge shape which is suited to, and optimised for, the corresponding application, so that the manual forces required for cutting remain low. This allows single-handed operation. Tools by Weidmüller comply with all requirements imposed on professional cutting tools.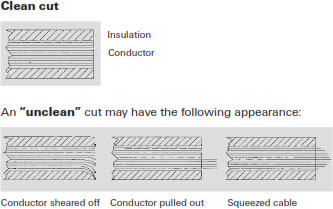 Movement of the blades

We differentiate between two basic cutting processes:
• Push cut
• Draw cut