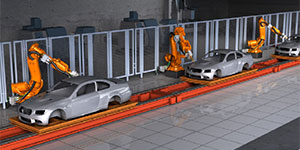 Managed switches offer extensive control
mechanisms for data distribution and bandwidth management to co-ordinate and cope with the different requirements of communication participants in an industrial network. Configuration is either web-based using a simple and intuitive user interface or via a serial console.

Powerful and reliable network redundancy

It is particularly important to have network redundancy to ensure system availability in today's Industrial Ethernet infrastructures. This is because in a highly integrated system, a connection error can lead to machine stoppage and thus to production losses. To minimise such risks in a managed Ethernet network, Weidmüller has integrated high-performance redundancy mechanisms into its managed switches. This is in addition to the RSTP/STP standard and port-trunking.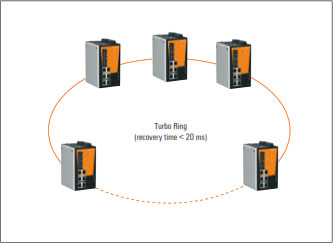 Ring redundancy

The Turbo-Ring technology integrated into Weidmüller's switches allows you to restore a network connection in case of failure in under 20 ms, and this with up to 250 switches in a ring. Turbo-Ring offers thee different topology options (Ring-Coupling, Dual-Ring and Dual-Homing) for different application requirements to ensure the maximum possible availability of industrial network applications.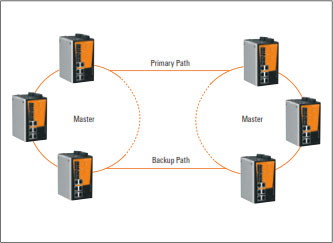 Ring-Coupling

In some applications, it is not sensible to have all equipment and devices in a single large redundant ring networked together, as some of the devices may be located in remote parts of the plant. For such structures, Ring-Coupling is ideal. It connects devices in multiple, smaller rings that are connected redundantly and directly with one another.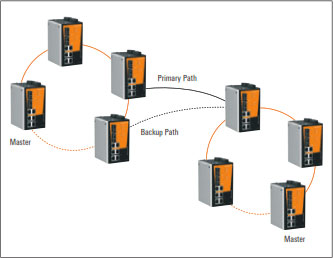 Dual-Homing

With Dual-Homing, two separate rings are connected through one managed switch via two independent connection points. The back-up connection is activated if the primary connection fails.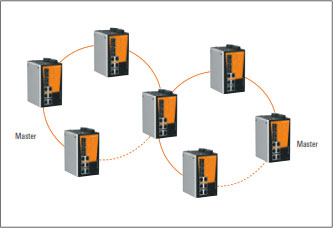 Dual-Ring

In a Dual-Ring, two neighbouring rings are connected with one another using one switch, without the need for additional ports or cabling. This configuration reduces the total number of ports and saves cabling costs, as an additional primary and back-up line is not needed.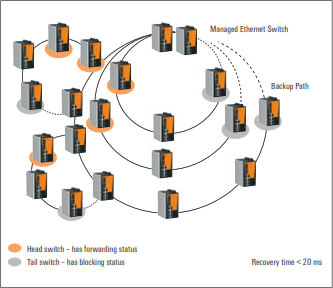 Turbo-Chain

Turbo-Chain offers the possibility of creating multiple redundant networks without the limitations of ring technology. Turbo-Chain can be simply configured by defining two end-points in a segment. This means you can connect or extend existing redundant networks. When compared with traditional ring coupling or a network re-design, Turbo-Chain is more flexible as well as being more cost efficient and it has significant savings potential when compared to the effort for network restructuring and re-cabling. In addition Turbo Chain also supports IEEE 802.1w/D RSTP and STP protocols.

. Flexible network topology
. Unlimited and simple network expansion
. Quick troubleshooting (recovery time < 20 ms)
. Cost-effective configurations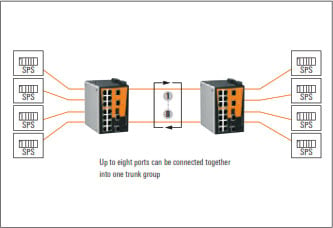 Port trunking for flexible connections

IEEE 802.3ad (LACP, Link Aggregation Control Protocol) permits flexible network connections and a redundant path for critical applications. It provides the means for a user to link via a higher bandwidth over the PremiumLine managed switches by combining more ports into a trunk group.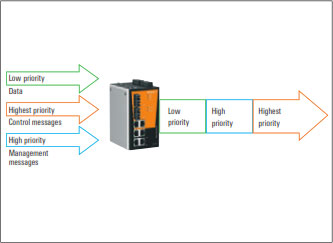 QoS supports real-time capability

Quality of Service (QoS) enables the possibility of prioritisation of data traffic in a network and ensures that important data is consistently available. Weidmuller managed switches can deal with IEEE 802.1p/1Q layer 2 CoS tags and also layer 3 TOS information. The QoS functionality of Weidmuller's managed switches improves network performance and ensures that time-critical applications are given priority.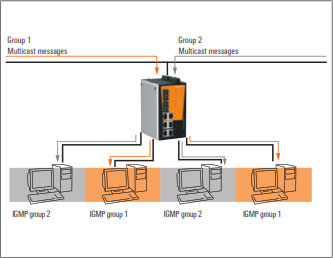 IGMP snooping and GMRP for filtering multicast data traffic

Weidmuller managed switches support GMRP (Generic Multicast Registration Protocol) and IGMP snooping. These protocols limit multicast data traffic so that it is only forwarded to the devices that actually require it. This reduces unnecessary network data traffic.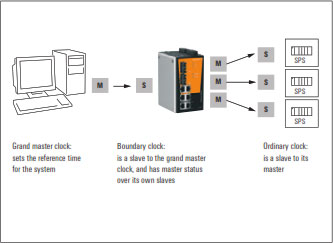 IEEE 1588 PTP - improves time synchronisation of automation devices

IEEE 1588 PTP, also known as Precision Time Protocol (PTP), was developed to synchronise real-time clocks which are located at specific nodes of a distributed system. Weidmuller managed switches with IEEE 1588 PTP are particularly suited for motion control applications where distributed clocks must be synchronised with high levels of accuracy.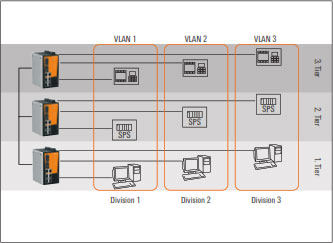 VLAN – simplifies network planning

VLAN stands for virtual LAN. It is a network structure with all the characteristics of a normal LAN, but not geographically constrained. A network can be divided into different sections using the VLAN function. It is possible, for example, to group servers or workstations together, based on their function. Data will only then be sent to Ethernet devices of a specific VLAN group. The option for isolating VLANs completely from one another serves to increase the security of data transfer and offers additional protection from unauthorised access or unauthorised data traffic.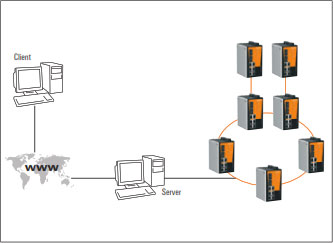 Automatic topology detection using LLDP

The Link Layer Discovery Protocol (LLDP - IEEE 802.1AB) is a data link layer protocol which publishes information about a device containing its IP address, description and functional information to its neighbouring devices over the network. All of Weidmüller's managed switches fully support LLDP.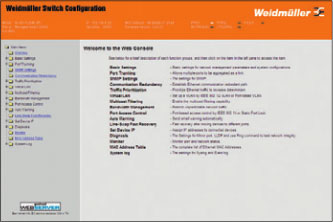 Simple browser based configuration

Weidmüller's managed switches can be easily configured using a web browser, telnet console or the Weidmüller switch configuration utility. Further switch configurations can be saved or the firmware updated using this user-friendly tool.