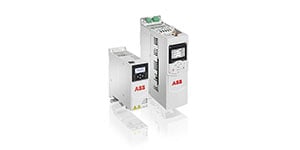 The latest generation of ABB machinery drives provide next-level performance, adaptability and dependability for machine building.
At SPS IPC Drives 2015, ABB announced two new machinery drives to help machine builders improve machine performance and provide more added value for their customers, while simultaneously cutting integration and maintenance costs. These drives are the latest addition to ABB's all-compatible drives portfolio, offering a technically compatible drive now with long-term solutions and support for users, processes, business and the environment.
Persistent predictability
ACS380 machinery drives are robust, compact drives that deliver predictable and precise motor control. They are remarkably easy to integrate into machine designs, as they are readily customized for industrial fieldbus protocols and can control a broad range of motors. The simple integrated user interface works similarly to a cellphone with icon-based menus, and adjusting the drive settings is easy. Adaptive programming provides additional flexibility to meet different machine requirements, and safe torque off (STO) is built-in as standard. The IP20 drive will be initially available in a power range from 0.25 to 7.5 kW (0.37 to10 hp), and a voltage range from 200 to 240 V (one-phase) and 380 to 480 V (three-phase), with plans to extend the product range in the future. Typical applications include mixers, conveyors, cranes, material handling and other low-power, constant-torque applications in machine building.
Adaptable performance
ACS880 machinery drives are an extended variant of the ACS880 family providing high-level of adaptability and performance. ABB's premium direct torque control (DTC) enables high static and dynamic motor speed accuracy even without a motor feedback device. Integrated safety features reduce the need for additional cost of external safety devices. Safe torque off (STO) comes as standard and additional safety features include the plug-in safety functions module and PROFIsafe over Profinet connectivity between drive and PLC. The adaptive IEC 61131-3 programming capability offers additional flexibility in designing the control logic and integrating the device with other automation devices. General motion control features improve the precision performance of applications. Optimized for serial machine building, this IP20 drive will be available in a power range from 0.37 to 45 kW (0.5 to 60 hp) and a voltage range from 230 to 500 V (three-phase). Typical applications include winders, wire drawing, mixers, extruders, cranes and other high-performance applications in machine building.
Built-on ABB's common drives architecture
As members of ABB's all-compatible drives portfolio, these drives share many features that simplify their use. Learning to use one ABB drive means that users can quickly adopt new drives in the portfolio. Both drives support a wide range of motors, from standard induction to permanent magnet and synchronous reluctance motors. The broad range of industrial fieldbus protocols and the optional embedded input/outputs provide excellent connectivity. The advanced assistant control panel is compatible with both drives, providing assistants, visualizations and optional home views. The drives also share the same Drive composer PC tool for drive commissioning and monitoring.
To meet the needs of machine builders, ABB offers programmable logic controllers, human-machine interfaces, various motors and other low-voltage products for a complete machine control solution. These can be programmed using a single software suite called Automation Builder, including Drive composer and other useful tools to design and monitor the machine's control logic.
ABB's life cycle services are available to support machine builders through machine design, production and maintenance. Local ABB experts and authorized value providers globally offer a broad portfolio of services, including engineering support, repairs, proactive service plans and eventual drive replacements.
ABB (www.abb.com) is a leader in power and automation technologies that enable utility, industry, and transport and infrastructure customers to improve their performance while lowering their environmental impact. The ABB Group of companies operates in roughly 100 countries and employs about 140,000 people.