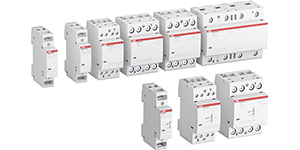 ABB has launched a range of all-new installation contactors that cover a wide range of ratings from 16 to 100 A. The high-quality devices are designed to provide hum-free operation, making them ideal for switching and controlling lighting, heating, HVAC and ventilation applications, and motors and pumps in noise-sensitive environments.
ABB's hum-free installation contactors are widely used in hotels, residential buildings and other applications where their hum-free operation offers peace of mind. With the all-new range, the contactors take noise reduction to a new level with an innovative electromechanical AC/DC coil design.
Contactors starting from 16 A up to 100 A, including a huge variety of contact configurations and control voltages, with a choice of manual and automatic versions cover all needs for your building applications. Smart accessories with tool-free mounting make installation easier, and more convenient while single- and multi-packs with EAN barcodes make inventory, pricing and processing simpler.
Stefan Roessler, senior product manager of ABB´s Motor Starting and Protection business, said: "This new, broader range of high-performance installation contactors will further strengthen ABB's market position in this key area. This new range of devices delivers hum-free high performance in a compact design, backed by a selection of common tool-free accessories and an optimized logistic concept for wholesalers and distributors."
ABB aimed to make the new solution more efficient for customers. A universal contact block can be attached to the installation contactors by hand, reducing installation time and helping to cut stock levels by up to 50 percent.
The installation also fits easily with ABB's popular System Pro M compact range, making it fully compatible with other modular DIN-rail components. An integrated indicator makes diagnostics quicker and provides reliable information about the installation contactor's status at a glance.
The new range is launching worldwide in Q1 of 2018, backed with expert local support and fast local delivery. All necessary approvals will be available, including the ones needed for marine. The devices hold IEC 60947-4-1 and IEC 61095 certifications and a pollution degree class 3 rating.