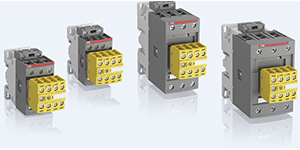 ABB's all-new range of AFS contactors for safety applications is now available to order. The launch of the new contactors completes the expansion of the company's portfolio of safety components, making it possible to equip every aspect of a plant's safety architecture with ABB technologies.
The new AFS contactors can be part of the safety chain in industrial machinery and process industry applications, stopping motors or triggering gas discharges. For machine safety applications, AFS contactors come with fixed front auxiliary contact blocks that make monitoring and controlling circuits easier. The mechanically linked and mirror contacts also help make systems safer.
Massimiliano Cifalitti, global product group manager for ABB's motor starting and safety business, said: "The all-new AFS contactor shows why ABB is a leader in industrial safety. Its innovative design makes this key component for machine safety simpler to install, easier to maintain and safer to operate. With the most frequent updates to our complete range of safety components, and software tools to make workplaces safer by design, customers can choose with confidence knowing that ABB offers the best solution possible for their complete safety architecture."
The all-new AFS contactors are designed to make integration into machine manufacturer systems easier. All the data for the contactors is readily available via safety design tools such as Sistema, or FSDT from ABB. For manufacturers, this makes it simpler to design machines with higher safety levels, complying with the main EN ISO 13849 and EN 62061 safety standards.
ABB's ergonomic design makes operation safer and simpler. During routine maintenance, the distinctive yellow auxiliary contact block makes it faster and easier to identify the safety device in the panel, saving valuable time. A protective cover helps prevent accidental manual operation.
The range makes high-performance protection systems simpler to build. The power consumption of the contactor coil can be cut by up to 60 percent, enabling more compact transformers and panels. Built-in surge protection comes as standard. The device's near-instantaneous response time improves safety. When a fault is detected, opening times are less than 30 ms for selected variants, enabling designs with significantly shorter safety distances.
Mechanically linked and mirror contacts are clearly marked with symbols on the front and provide the performance required in feedback circuits. This prevents any unexpected state changes of the auxiliary contact, should the main contacts become welded or stuck. It also ensures an accurate indication of the safety system status is displayed at all times.
"Safety designed contactors perform an essential function in machines, breaking the power supply to a load, usually a large electric motor," said Cifalitti. "At ABB, we believe that better safety is always the right decision. Our teams of experts have designed the AFS contactor to reward that decision."
Technical highlights:
-Up to 45kW - 400 V AC-3, 60hp - 480 V and 130A - 690 V AC-1, 115A - general use
-Fast opening times less than 30 ms for selected variants
-Mirror and mechanically linked contacts with third party certificate
-Low energy auxiliary contacts feature a minimum switching capacity 12 V, 3 mA 10-7
-Built-in surge suppression
ABB safety products bring quality and innovation to essential industrial equipment. ABB has also introduced a new range of Sentry safety relays that are simpler to install, make troubleshooting faster and minimize downtime.