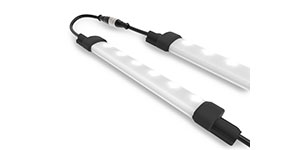 Minneapolis, MN - August 4, 2017 - Banner Engineering, a leading provider of technology for process and industrial automation, today announced the release of the WLS15, a professional grade LED strip light that makes it easy and very cost-effective to illuminate machines, work spaces, and mobile equipment for improved efficiency, productivity, and safety.
Featuring high-efficiency LEDs and a diffuse window, the Banner WLS15 provides bright, even illumination with no hot spots. It uses a fraction of the energy of many comparable light fixtures and operates within the 12 V dc and 24 V dc ranges. The low power consumption and slow current draw of the WLS15 is perfect for use on mobile equipment and other battery regulated applications.
The space-saving design of the Banner WLS15 enables installation in confined areas and very tight spaces. It has a slim 15 mm profile that will not obstruct sight lines or disrupt the work environment. The ability to cascade lights together combined with flexible mounting options, such as endcap mounting holes, snap clips, and a wide range of available brackets, simplify installation and wiring and make it easy to deploy and power one or multiple lights within a short amount of time.
Built with a sturdy aluminum inner frame and sealed in a shatter resistant, UV-stabilized, polycarbonate shell, the Banner WLS15 resists impact and vibration and tolerates wet and dirty conditions. This rugged, IP67-rated light fixture will perform reliably in challenging indoor and outdoor environments.
The WLS15 is certified for use around the world and is supported by Banner Engineering's global network of offices and partners. This simplifies repair and replacement by ensuring easy local access to service, support, and spares, if ever needed.