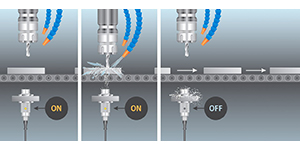 Chip Immune Application:
Machines for turning, milling, drilling or grinding metal will inevitably generate abrasion debris. For inductive sensors, which by their nature detect metal objects, this debris presents a difficult challenge. When sensors are covered with lubricant containing metal chips, there is a risk that they will supply incorrect signals to the control system. For these applications, sensor specialist Contrinex now offers its Chip-Immune series of inductive sensors in M12, M18 or M30 housings for non-embeddable mounting. Even when covered with chips of iron, aluminum, stainless steel, brass, copper or titanium, they will reliably detect targets made of these metals. The sensor achieves this with a slightly modified form of the Condet® method, which operates on the basis of pulsed currents in the coil and uses returned inductive voltage as the useful signal. These sensors have a one-piece stainless steel housing with IP68 and IP69K protection rating and a wide operating temperature range from -25 to +85°C (-13 to +185°F). This makes them particularly suitable for use in the harsh environments of the machining industry. Depending on sensor diameter, operating distances of 3, 5 or 12 mm are available while repeatability ranges from 0.2 to 0.8 mm. The sensors operate at frequencies of 90, 200 or 400 Hz. In the PNP version, sensors also include an I/O-Link interface for communication with the rest of the system.
In practice, the use of these new inductive sensors can save time, money and even help protect the environment. In metal-cutting operations with conventional inductive sensors, reliability is ensured by regularly spraying chips away with water. This is no longer necessary with the chip-immune range of inductive sensors.
Chip-Immune Sensor Overview:
-Housing M12, M18 or M30
-Detection not influenced by chips of iron, aluminum, stainless steel, brass, copper or titanium
-Detects targets made of the above metals
-Robust: one-piece stainless-steel housing, protection rating IP68 and IP69K
-Temperature range -25 to +85°C (-13 to +185°F)
-Operating distance 3, 5 or 12 mm
-IO-Link