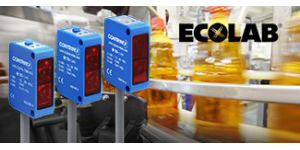 Swiss sensor specialist Contrinex announces Ecolab certification for its high-performing C23 photoelectric sensors with IO-Link connectivity. Food and beverage manufacturers requiring food-safe sensors can now benefit from remote adjustment of sensitivity and other operating parameters, features which are already boosting productivity in other fast-moving process production facilities.
Mounted in 20mm x 30mm x 10mm miniature plastic housings, C23 sensors are available with industry-standard IO-Link connectivity on all PNP versions. A brief teach procedure simplifies initial sensor set-up; once taught, sensitivity parameters are stored on the sensor's inbuilt memory and may be retrieved or updated remotely via IO-Link, eliminating the need for manual intervention and any subsequent re-sterilization between successive product batches.
Robust sensor construction ensures reliable operation in demanding washdown environments; Contrinex C23 devices withstand aggressive cleaning agents and are rated to IP67. Eliminating the need for technicians to attend machines between batches minimizes downtime and maintains productivity at optimal levels. IO-Link connectivity facilitates plant-wide control of all key processes.
Advantages at a glance:
-Ecolab-certified miniature sensors are ideal for food-safe areas
-Remote sensitivity adjustment via IO-Link requires no manual intervention
-Remote adjustment eliminates re-sterilization between product batches
-Robust sensors withstand aggressive cleaning agents and are rated to IP67
-Productivity is optimized with minimal downtime
-IO-Link connectivity enables plant-wide control of all key processes