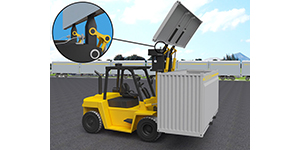 Summary:
A container manufacturer uses a modified forklift, fitted with two sets of forks, for unloading bulk cargo. The lower forks support the container while the upper forks control the lid. When unloading, the lid opens and the lower forks rotate, tipping out the contents. A robust inductive sensor senses the position of the lid, ensuring it opens fully before emptying.
Customer Values:
Safe, reliable performance in a demanding outdoor environment
No likelihood of accidental damage arising in operation
Cost-effective solution, maintenance free
Specific Product Advantages:
Corrosion-resistant stainless-steel sensor rated to IP68 and IP69K
Best-in-class 20mm sensing distance in M30-diameter housing
Cost-effective high-performance sensor with exceptional reliability
Customer Application:
Containers are often used when transporting bulk cargo, including wood chip and biomass, by rail. A Swiss manufacturer of bulk-cargo containers has developed an innovative unloading system that uses only a modified forklift, eliminating the need for specialist handling equipment.
The forklift has two pairs of lifting forks. The main forks, mounted conventionally, support the weight of the container as it is unloaded from a freight wagon; a second pair, mounted vertically above the lower pair, opens and closes the lid of the container. During opening, the upper forks lift the lid a short distance before tilting it vertically, leaving the top of the container completely unobstructed.
The lower forks then rotate about a horizontal axis, tilting the container end-over-end and tipping the contents out. A robust and reliable sensor system is required to detect the vertical position of the lid before rotation begins. An extended sensing distance is essential to eliminate the possibility of mechanical damage.
Customer Solution:
Contrinex inductive sensors are robust, reliable and offer extended sensing distances; the Full Inox Extreme range is ideal for this application. A one-piece M30-diameter stainless-steel body and vacuum-encapsulated electronics make this device particularly suitable for the mechanically demanding environment, and the sensing distance of 20mm eliminates any possibility of accidental collision in operation.
A metal bracket is mounted externally on the actuating mechanism for the upper forks; the embeddable sensor is mounted immediately adjacent to one of the forks and detects the position of the actuating arm as it drives the fork into the vertical position. The AISI 303/V2A stainless-steel housing and sensing face are corrosion-resistant and impervious to water ingress; the sensor is IP68- and IP69K-rated.
Configured with an industry-standard PNP normally-open interface, the Contrinex M30 Extreme sensor connects to the forklift's lower-fork tilt-control systems via a flexible PUR-sheathed cable. A sealed cable entry ensures fit-and-forget capability during extended periods of operation in an outdoor environment.
The Full Inox inductive sensor detects the vertical position of the forklift's upper forks effectively and repeatably, ensuring safe, reliable operation of the unloading system. Contrinex inductive sensors deliver a cost-effective solution that satisfies the customer's requirements for extreme robustness and extended sensing distance.