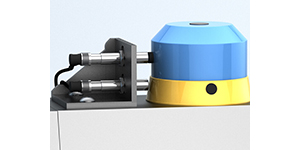 Summary:
During manufacture of dairy products, raw milk travels between successive processes through stainless-steel pipework. Rotary-shaft control valves maintain process sequences correctly, ensuring that no cross-contamination occurs during CIP cleaning after each batch is completed. Robust washdown inductive sensors, mounted on existing rotary actuators, monitor control-valve status around the clock, providing real-time positional feedback to a plant-wide control system in a simple, cost-effective manner.
Customer Values:
Safe, reliable operation in a hostile washdown environment
No risk of cross-contamination between processing and cleaning sequences
Easy integration with existing plant-wide control system
Cost-effective solution requiring minimal maintenance
Specific Product Advantages:
Robust washdown sensor rated to IP68 and IP69K
Exceptional resistance to shock and vibration
Affordable high-performance sensor with excellent reliability
Customer Application:
At a European dairy-processing plant, milk products, made from pasteurized or raw milk, require hygienic transportation between successive operations. Process engineers use stainless-steel pipework to transport liquid ingredients from one operation to the next. Fluid flow is managed using control valves fitted with electrical, hydraulic or pneumatic actuators.
Multiple rotary-shaft valves deliver raw milk from holding tanks to each process station in sequence, maintaining specified flow rates and volumetric limits. Once processing of each batch is completed and all process vessels are drained, closed-loop CIP cleaning commences. Accurate, repeatable valve sequencing is essential to prevent any chance of cross-contamination between processing and cleaning sequences.
A robust, highly reliable sensor system, capable of withstanding the harsh washdown regimes in force, is needed to monitor control-valve positions during processing. Where possible, sensors must be mounted on existing rotary actuators, and real-time communication with existing plant-wide control systems is mandatory.
Customer Solution:
Sensing the position of a rotary-valve actuator is a routine task for Contrinex Classics washdown inductive sensors. These sensors interface directly with a range of industrial process controllers and provide cost-effective confirmation of control-valve status around the clock.
A purpose-designed bracket, mounted on the top surface of each actuator, holds two sensors; these are positioned with the sensing faces vertically aligned, one above the other, and facing the actuator shaft. NAMUR-compatible (VDE/VDI 3845) mountings on the actuators provide a known datum for the sensors.
A solid plastic disc, mounted on the shaft, carries two or more stainless-steel targets, positioned at 90 degrees to each other around the outer peripheral surface of the disc. Each target occupies either an upper or a lower position corresponding to height of one of the sensors. As the shaft rotates, opening and closing the valve, the targets pass in front of the sensing faces, triggering the sensors.
These M12-diameter devices, rated to IP68/IP69K, have all-metal bodies with PBTB sensing faces and vacuum-encapsulated electronics; each features an industry-standard PNP normally open output. Fully embeddable, and with a sensing range up to 2mm, they are well suited to the hostile operating conditions of a washdown environment.
Each sensor has an integral M12 connector, interfacing with the customer's control system via a TPE-S-sheathed cable. Reliability is excellent; the system is simple and cost-effective.