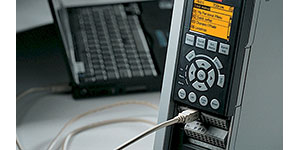 We are pleased to announce the release of the VLT Motion Control Tool MCT 10 software update.
Improvements:
Options can now be flashed via USB
You now have the freedom to flash options via USB or serial connection.
Updated conversion wizard
It is now possible to convert VLT® 6000 to match VLT® Refrigeration Drive FC 102 software.
Custom parameter folder
Besides the facility to read and write parameters from the custom parameter folder, you can now additionally compare the parameters of the custom parameter folder to the parameters on the drive.