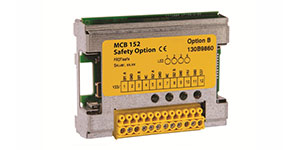 The MCB 152 operates the safety functions of a drive via the PROFIsafe fieldbus. It improves flexibility by interconnecting and cooperating safety-related devices within a plant.
The VLT Safety Option MCB 152 supports PROFIsafe functionality to activate integrated safety functions of the VLT®AutomationDrive from any PROFIsafe host, up to:
Safety Integrity Level SIL 2 according to EN IEC 61508 and EN IEC62061
Performance Level PL d, Category 3 according to EN ISO 13849-1.
The option is certified by IFA (Institut für Arbeitsschutz der Deutschen Gesetzlichen Unfallversicherung) and PNO ( PROFIBUS Nutzerorganisation e.V - certificate no. Z20125).
Fieldbus profiles like PROFIsafe, PROFIdrive and FC-Profile are elements of the PROFINET fieldbus. This permits the transmission of standard and safety-related data on a single bus cable, according to the black channel principle. The existing network infrastructure is optimally utilised, since no separate cabling is required.
Fail-safe controllers, fail-safe I/O, and fail-safe drives permit the implementation of safety equirements in every machine. The PROFIsafe device extends the advantages of functional safety to the next level of flexibility. It enables extension from an isolated safety device to
interconnecting and cooperating safety-related devices within a plant.
The combination of VLT Safety Option MCB 152, PROFINET fieldbus option MCA 120, and the control card of the VLT AutomationDrive constitutes a PROFIsafe device.
To customise the safety application, adapt the settings of safety parameters. To configure via software, use the VLT Motion Control Tool MCT 10 safe plug-in. It is possible to copy the safety parameters via the LCP Copy functionality. This is valuable in service cases where either a defect option or drive must be exchanged.