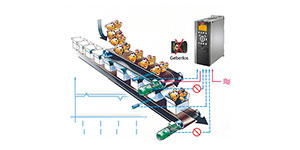 Perform regulation of PM as well as asynchronous motors, with or without encoder, using the Integrated Motion Control function of the VLT AutomationDrive.
The Integrated Motion Controller is a new software feature, which enables the VLT® AutomationDrive FC 302 to perform in positioning and synchronization applications. Using the FC 302 with IMC, you can regulate asynchronous and permanent magnet motors, both with and without encoders.
In many applications there is a need for servo functionality, such as precise positioning or synchronization. However not all these applications require the highly-dynamic performance of servo drives. Since servo drives involve substantially more complex engineering and higher costs, it is a definite advantage to avoid servo drives where possible.
An innovative new alternative to servo control is the Integrated Motion Controller (IMC), which is configurable in the VLT® AutomationDrive FC 302 software. The advantages: the solution works with all typical motor technologies, provides automatic motor adaptation, and offers sensorless rotor position detection. The VLT® AutomationDrive is a robust, mature AC drive, already familiar to the user, and is simple to program and commission.
Motion control is characterized by high-precision regulation of position, velocity and acceleration. Until now, implementation of motion control via an AC drive has required extra hardware: a corresponding motion control module (internal or external) and an encoder. The new, optional IMC makes VLT® AutomationDrive different. Thanks to the IMC functionality, the VLT® AutomationDrive is now a competitive performer in positioning or synchronizing applications - with no additional hardware modules required. In many cases, you can even perform motion control with no encoder.
This is a very cost-effective solution. The VLT® AutomationDrive with IMC opens up new opportunities in all power ranges, and can replace a servo drive in many applications, such as:
Rotary tables
Packaging machines
Conveyors
Labeling machines
Cutting machines
Extruders
Palletisers
and many more, in almost all industries