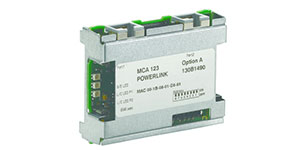 We have released a new firmware version 1.12 for the POWERLINK MCA 123 option. Version 1.12 offers a number of very useful new features.
New features in our POWERLINK MCA 123 option are:
DS 402 profile
6000h-9FFFh Standardized Device Profile Area
SDO commands (including file write/read)
Node ID setting using DIP switch
Basic Ethernet Mode in the absence of MN
FTP, WEB and SMTP server
Transparent Socket Channel for MCT10 access
Certified by Ethernet POWERLINK Standardization Group on March 30, 2013
Real-time Ethernet solutions

Bringing together Ethernet, CANopen, and hard real-time capabilities, POWERLINK integrates features and advantages from three different worlds. The core of POWERLINK technology includes numerous unmatched features like redundancy, hot plugging, direct cross-traffic, multiplexing, poll response chaining, and more.
With more than 900,000 POWERLINK systems installed, POWERLINK is the worldwide leader for real-time Ethernet solutions. Absolute openness, maximum performance and unmatched features are the main reasons for POWERLINK's success.
The POWERLINK MCA 123 option is available for the VLT Automation Drive FC 301 and FC 302 and the VLT Decentral FCD 302.