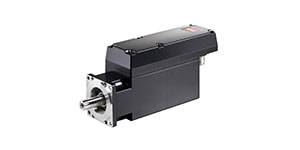 Continuing to focus on open control architectures, the VLT Integrated Servo Drive ISD 510 features Ethernet real-time systems EtherCAT® and POWERLINK.
The high-performance, high-precision, dynamic and durable integrated servo drive provides an ideal platform for realising applications in the food, beverage and packaging industries.
Open control architecture
Danfoss has focused on the programming standard according to IEC 61131-3, and consequently offers an open system with extensive libraries with functions for cam discs, synchronisation and motion functionalities.
Central Servo Access Box simplifies connection
The power supply to the ISD 510 drives is provided via a Servo Access Box (SAB) in the control cabinet, which generates a 600 V DC supply and ensures a high power density. The SAB is based on the proven quality of a Danfoss frequency converter and delivers an output of over 7.5 kW.
Depending on the application, two separate output lines can be connected, each with 32 drives. This means up to 64 drives are connectable per SAB, resulting in significant space savings in the control cabinet.
Synchronous motors with integrated electronics for high efficiency
The ISD 510 drive is based on permanent-magnet synchronous servo motors, where the motor and electronics are contained within one housing. The drives offer vibration protection to class 3M7, and have an IP67 protection rating, whereby the shaft seal itself has a protection rating of IP65. The drive is available in four flange sizes. Depending on the application a customised flange is also available.
The rated torque of the drives platform ranges from 1.7 to 15 Nm. At this year's SPS Drives Fair Danfoss presented the drive sizes 1 and 2 with a rated torque up to 3.7Nm. Choose between resolver, single-turn and multi-turn absolute encoders for feedback. The ISD 510 is optionally available with a mechanical holding brake, to enable holding the position, for example in blow-moulding applications, and to prevent damage to the mechanism from the stretching rod dropping.
Furthermore, the advanced drive version has three connectors, enabling connection of
an external encoder for high-precision positioning applications,
external inputs or outputs connected via Ethernet bus directly to the drive, or
an LCP for diagnosis or commissioning.