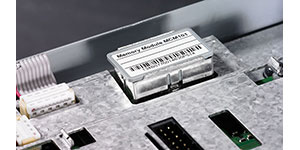 The standalone drive unit and fully-integrated motor and drive solution now include a range of new features, options and accessories that reduce installation time and costs and save energy.
The VLT DriveMotor FCP 106 and FCM 106 are now available with 7.5 kW high overload (HO) capability. HO variants are important to optimize the performance of applications which have a high starting torque, for example conveyors or positive displacement pumps.
Faster, easier handling
The new VLT® Memory Module MCM 101 provides an easy way to commission a new drive, to install firmware updates and to replace a drive.
The key benefits of the memory module come when replacing an old drive with a new one. By simply transferring the memory module from the old drive into the new drive, all the settings and software are automatically downloaded and the new drive will be an exact clone of the old drive. The drive replacement task can quickly and easily be performed by a service technician as no specific knowledge of setting up a drive is needed. This reduces the amount of service visits needed by OEMs.
New pump feature saves energy
Flow compensation is a new feature that has been added to the drives. A pressure sensor mounted close to the pump provides a reference point that enables pressure to be kept constant at the discharge end of the system. The drive constantly adjusts the pressure reference to follow the system curve. This method both saves energy and reduces installation costs.
Communication protocols extended
The VLT DriveMotor FCP 106 and FCM 106 are now available with the PROFIBUS DP V1 fieldbus option and can therefore be used with applications that require the profibus communications protocol.
User interface improved
With the new full graphical display, the VLT DriveMotor FCP 106 and FCM 106 are easier to configure and set up. The graphic local control panel LCP 102 also gives a clear overview of the drive in running conditions.
Greater mounting flexibility
The VLT DriveMotor FCP 106 is intended to be mounted directly onto a motor. But in some cases, for example if space is limited, it is preferable that the drive is mounted close to the motor. A wall-mount plate will be available as an option so that the drive can be mounted in the optimal place for the application.