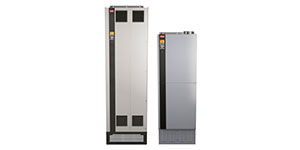 VLT® AutomationDrive FC 302, VLT® AQUA Drive FC 202, VLT® HVAC Drive FC 102 and VLT® Refrigeration Drive FC 103 in enclosure size E are being introduced in a new design. Thanks to the new design, it will be easier to install, commission and service the drives. The layout is more compact, but the new enclosures offer more space for cabling, easier access to terminals and fewer parts. And there is a choice between standalone or cabinet-mounted variants of the single integrated drive.
Maximum use of silicon capacity using cutting-edge heat pipe technology ensures the highest possible power output for the physical dimensions of the drive. And with up to 73% less volume with the same power output, space savings can be achieved in the cabinet or control room.
The mains and motor terminals are available on the same plane making them easy to access. This saves time during installation and commissioning. While built-in options eliminate the need for an extra cabinet saving equipment costs and reducing space requirements.
The unique back-channel cooling system reduces the scale of air conditioning required and even the size of the control rooms saving up-front and operational costs.