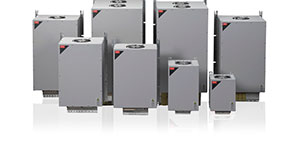 The joint product portfolio of VLT and VACON drives offers the best of both worlds. One of the notable examples of the benefits of a combined portfolio relates to the power options.
"It is now possible to use VLT Advanced Harmonic Filters with VACON 100 drives. This is a great asset as, previously, passive filters were lacking from the VACON brand offering. The suitability of the filters has been tested, and the necessary compatibility mode and parameters were introduced to VACON 100 INDUSTRIAL and VACON 100 FLOW products earlier this year," explains Niko Honkonen, Product Manager, Danfoss Drives.
"There is a growing demand for clean grid products. The use of advanced harmonic filters is a robust and proven harmonic mitigation solution and the optimal choice for VACON 100 drives," states Christian Mieslinger, Head EMC, Training and Field Services, Danfoss Drives.
VLT dU/dt filters are a great match for VACON 100 600V and 690V drives. They reduce stress on the motor's insulation and are recommended in applications with older motors, in aggressive environments or where there is frequent braking which causes increased DC link voltage. The filters have been verified with VACON 100 drives and selection tables have been created so that it is easy for customers to choose the right combination.
"We will soon have new VLT dU/dt filters for VACON 100 690V/208A rating. The new IP21 and IP54 designs are more compact which increases the installation density, which is critical for customers," explains Jarkko Salomäki, Product manager for Power Options, Danfoss Drives.