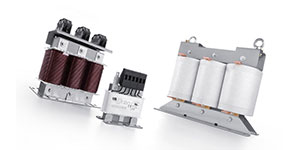 We are pleased to introduce a new load sharing solution - the new VLT Line Reactor MCC 103.
The line reactor programme ensures balanced current sharing in load sharing applications, where the DC-side of the rectifier of multiple drives is connected together.
For applications using load sharing, the MCC 103 is UL-recognized and is compatible with
the popular frequency converters VLT® AutomationDrive, VLT® AQUA Drive and VLT® HVAC Drive
50 Hz or 60 Hz mains supply
When planning load sharing applications, pay special attention to different enclosure type combinations and inrush concepts. For technical advice regarding load sharing applications we recommend contacting Danfoss application support.