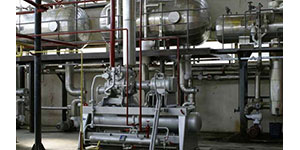 We have updated our VLT Refrigeration Drive FC 103 Selection Guide; 56 pages chock-full of technical specifications and information about important refrigeration process functionalities and features.
For over 60 years the Danfoss Refrigeration team has specialised in the development of innovative and effective refrigeration technology solutions. One of the results is the VLT Refrigeration Drive FC 103, the frequency converter developed to provide optimized control over refrigeration system compressors, condensers, evaporators, fans and pumps.
To help significantly reduce lifecycle costs of your refrigeration systems, the VLT Refrigeration Drive FC 103 offers efficiency and reliability enhancing features, integrated process control functions and a commissioning environment specifically designed to meet the needs of refrigeration applications.
We have now updated our VLT Refrigeration FC 103 Drive Selection Guide; 56 pages chock-full of information. The brochure not only contains the full technical specifications of the FC 103 up to 630 kW, but is also focusing on important refrigeration process functionalities like
6 compressors pack controller
Multi-zone Pack Controller
Variable Neutral Zone
Oil return management
Dedicated condenser and evaporator features
Floating condensing temperature
New dedicated sections have been added to the brochure on:
Motor independency
Modular simplicity
Graphical interface & set up wizard
Harmonics mitigation
Reliability
Intelligent heat management
Field busses