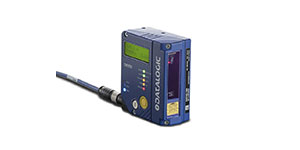 Datalogic, a global leader in Automatic Data Capture and Industrial Automation markets, and world-class producer of bar code readers, mobile computers, sensors, vision systems and laser marking equipment, today announced the launch of the newest addition to the 8K series of industrial high performance laser bar code scanners. These new scanners position the industry leading line of Datalogic 8K scanners even further ahead of competitive devices.
As the industry leader in bar code technology for automation, Datalogic continues to push the limits to bring more functionality and value to customers. The DS8110 laser scanner provides peak performance, with a larger Depth of Field (DOF) and greater Field of View (FOV) than other comparable models. This means higher reliability, higher performance, and higher value to our customers.
The DX8210 laser scanner provides similar features in an X pattern providing the work of two scanners in a single more efficient form factor. Both units are designed with a larger Depth of Field (DOF) and greater Field of View (FOV) than their predecessors and competitive devices. This offers increased efficiency as a single unit can read a greater area reducing the total number of readers required for multi-sided applications.
"Our customers have demanding applications that require creative and reliable solutions. They have relied on the Datalogic 8000 series laser scanners over the years and we have worked to increase the feature set to meet their constantly changing needs" states Alberto Bertomeu General Manager Identification Business Unit at Datalogic. "The new DS8110 and DX8210 continue in the 8000 series tradition of excellence with additional features that bring more value to our integrators and customers."
The new DS8110 and DX8210 devices are designed to meet the demands of transportation and logistics, airport, and other applications where high speed linear bar codes need to be traced with a 99,9% reading rate.