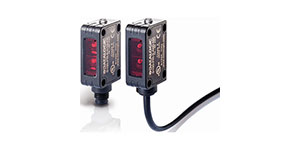 Datalogic, a global leader in Automatic Data Capture and Industrial Automation markets, and world-class producer of bar code readers, mobile computers, sensors, vision systems and laser marking equipment announces the S45 Miniature Sensor Family. A new line of compact sensors ideal for applications where precise and reliable detection in a compact form factor is required.
S45 Miniature Sensor Family offers a wide variety of sensors with the latest technology, each in a very compact housing. Manufactured from glass-reinforced plastic these rugged and sturdy sensors, with dimensions of 32x20x14 mm, are great for applications in harsh environments. Applications food, pharma and beverage industries can leverage their IP67 and IP69K standards, which meet and exceed industrial wash-down requirements.
Advanced autocollimating optics and auto adaptive threshold adjusting features ensure perfect and reliable transparent detection. Precise and sharp laser emission detects very small objects at very high speeds. A wide choice of optical functions are available with complete light emission options; special models for transparent object, contrast sensing and distance sensing makes this family the most complete miniature sensor product portfolio on the market.
"The S45 Family is very versatile and makes a great choice for a wide range of automation applications" states Cosimo Capuzzello, General Manager Sensors & Safety Business Unit at Datalogic. "These are much more than just miniature sensors, these are leading sensors that can be used in many applications and their size makes them very flexible; designers will choose them even when size is not a requirement."
Designed with an eye to facilitate installation and use, the S45 Family comes with a simple use Teach-In operation. Outputs are available for PNP, NPN, and Push-Pull connections. Dovetail mounting is built into the housing for easy and flexible alignment. This mounting provides for precise and fast positioning. The S45 Family is ideal for many automation applications in food, pharma and beverage industries.