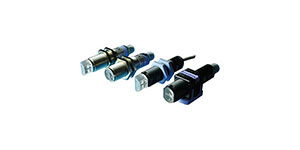 The S5 series offers a range of plastic tubular M18 photoelectric sensors.
The most varied optic functions can be chosen amongst the fixed focus or diffuse proximity models with short, medium or long operating distances reaching 60 cm; the 4 m retroreflex, 3 m polarised retroreflex and 1 m for detection of transparent materials; the 12 m through beam and models with fibre-optic connection.
Different versions with either axial or radial optics are available. The series offers connector or cable connection, 3 wire Vac versions or 4 wire Vdc versions with complete configuration of the NPN/PNP output and dark/light mode.
A red LED indicating the output status is visible on the bottom side of the sensor.
The versions with trimmer adjustment present also a green LED signalling the switching stability according to the received signal's intensity.
The rugged ABS housing always guarantees IP67 protection.