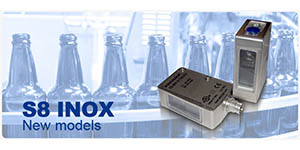 Datalogic Automation is pleased to announce that S8 INOX the universal photoelectric sensor in STAINLESS STEEL housing series widens its range with new models, thus effectively completing this family of sensors.
New models support the unique ONE for ALL concept: one shape and one fixing holes pattern for all the models. A real advantage for the OEMs who can leverage this feature to reduce and standardize automatic machine components.
The New S8 INOX was designed for frequent wash downs and its corrosion-resistant AISI316L stainless steel case is rated IP69K.
Together with all aforementioned Stainless Steel new Through Beam models in plastic housing will be added to complete the offer.
S8 are the perfect solutions to discriminate fine color differences at very high speeds in high demanding processes with moving and very clear objects such as in FOOD and PHARMA applications.