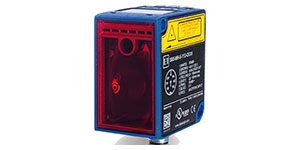 Datalogic has developed the new S85 series of LASER distance sensor based on Time of Flight technology.
This sensor can measure distances up to 20 m without the use of a prismatic reflector, performing background and foreground suppression functions. These functions allow for the detection of objects even from a long distance, eliminating interference of objects outside of the desired range.
The highly focused Class 2 LASER and innovative software result in extremely precise measurement: 7 mm of accuracy for distances up to 20 m, 1 mm of resolution and 1 mm of repeatability. Its repeatability and accuracy make the S85 one of the most precise distance measurement devices on the market.
The S85 series features both a basic and advanced model. The basic model measures distances up to 10 m and can be configured via push-buttons. This model features an M12 5-pole standard connector with analog and digital outputs that provide distance and the object detection in the measurement range.
The advanced model measures up to 20 m and is easily programmable via a user friendly keyboard and display. In addition to analog and digital outputs, the advanced model is equipped with an RS485 serial interface.
The S85 series is the optimal solution for distance measurement or long distance detection and inspection are required. The sensor is ideal for use on production lines, and in material handling and warehousing applications, such as: driving a trans-elevator in an automatic warehouse, preventing industrial vehicle collisions, controlling the diameter and the tension of a coil during the unrolling process and detecting objects from a safe distance.
The S85 series is available in sturdy metal housing easily mounted on industrial vehicles and machinery with its dedicated mounting bracket.