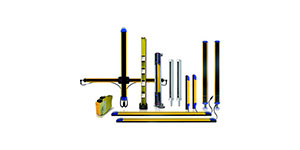 Datalogic Automation announces the introduction of SG BODY REFLECTOR the new family of safety light curtains for body protection and access control with complete passive unit.
Taking advantage of new housing together with the innovative design optical-electronic platform SG BODY RELFECTOR ensures the performance of high-level safety light curtain required in the material handling market.
Beside the classical TX-RX models with operating distance reaching up to 60m of SG BODY "BIG" TX-RX, SG BODY REFLECTOR series offers 2, 3 and 4 beams models made by an active unit and a complete passive unit, with integrated moulded plastic mirrors, reaching up to 8m with 500, 800, 900 and 1200mm controlled height.
All SG BODY REFLECTOR models are provided in 2 different versions:
-BASE version that represents the ideal product for all applications where Muting function is not required but EDM, MANUAL/AUTOMATIC restart are fundamental;
-MUTING version that integrates the Muting function and completes it with all advanced features associated to (i.e. 'L' o 'T' configurations, edged or triggered Override and external Muting).
Moreover, thanks to the new profile active and passive units of SG BODY REFLECTOR have finally the same width and same height guaranteeing though vertical and horizontal mechanical alignment.