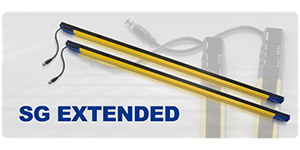 Datalogic Automation is pleased to announce SG EXTENDED safety light curtain series, a true innovation in Safety Light Curtains and the perfect completion of SG family.
SG EXTENDED are FULLY INTEGRATED safety light curtains that perfectly combine the SAFEasy concept with applicative flexibility, reliability and performance.
TOTALLY ZERO DEAD ZONE is the distinctive characteristic of all the models from 300mm up to 1800mm of controlled and overall height.
Product Range:
SG EXTENDED series guarantees full application coverage thanks to the following versions:
-SG2-M 'Muting': Type 2 - 30mm resolution with integrated Muting function for all packaging and material handling applications;
-SG4-E 'Programmable': Type 4 – 14mm and 30mm resolution with integrated and configurable Cascade, Muting and Blanking functions all in the same part number.
Integrated functions are selectable and configurable in 2 different ways:
-Basic Configuration Mode (BCM): push buttons located on both TX and RX allow user to configure the device in a very easy and quick way;
-Advanced Configuration Mode (ACM): a friendly GUI interface on PC communicates with the barrier through Ethernet and leads the customer through the configuration process step by step.
Dongle accessory enables cloning configuration from one barrier to another and setting up a safety light curtains LAN – for remote monitoring and programming.
Many other different functions are available: EDM, manual/automatic restart, reduction range, anti-interference coding, selectable PNP/NPN OSSDs output, alignment aid.
Compact profile, multiple mounting options, extreme application flexibility make SG EXTENDED Safety Light Curtain a perfect fit for a wide range of machine safety applications.
Product Highlights:
-Type 2 and Type 4
-14 and 30mm resolution
-Zero Dead Zone
-Up to 20 m operating distance for 30 mm models and up to 7 m for 14 mm models
-300…1800 mm controlled height
-Basic Configuration Mode (BCM) through push buttons
-Advanced Configuration Mode (ACM) through GUI
-Cascade (No Differentiation Between Master And Slave Models)
-Integrated Muting Function
-Integrated Blanking Function
-Accessory dongle for configuration cloning, Ethernet (TCP/IP) connection, remote monitoring, remote programming
Typical Applications:
Extreme flexibility together with high performances make SG EXTENDED ideal solution for the following applications:
-Automotive
-Packaging
-Metalworking
-Electronics
-End of line (Robots, Palletizers/Depallettizers)
-Automatic Assembling Lines