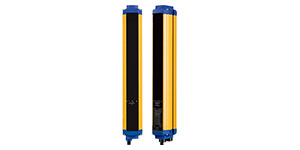 Datalogic, a global leader in Automatic Data Capture and Industrial Automation markets, and world-class producer of bar code readers, mobile computers, sensors, vision systems and laser marking equipment, announces the release of the SG4-H Safety Light Curtain, the ideal solution for applications where ultra-hygienic requirements mandate frequent cleanings with highly corrosive detergents.
The SG4-H is the first safety light curtain with a stainless steel housing and glass window. This combination provides the protection to assure years of operation while surviving repeated wash-downs. Most importantly, it will withstand cleaning with harsh cleansers such as hydrogen peroxide at a high temperature, common in the pharmaceutical Industry.
"In the food processing and pharmaceutical industries there are many applications where typical safety curtains will not survive or even operate properly" states Cosimo Capuzzello, General Manager Sensors & Safety Business Unit at Datalogic. "The new SG4-H adds safety and longevity to processes and equipment which, in the past, had created tough challenges for machine builders and production engineers. Not only are these light curtains sealed for cleaning, they have a compact form factor for added appeal."
The SG4-H Safety Light Curtains have an impressive list of features including housing and caps manufactured from high quality stainless steel (AISI 316L) and a glass window. The units are sealed to IP65 and IP69K protection class and are built in a compact form factor (50mm x 30mm profile) with no sharp edges or gaps. Adding to worker safety and to prevent contamination, the units have no detachable labels. Instead all product information is laser marked on the housing.
Typical applications for the SG4-H Safety Light Curtains include: liquid filling machines, powder filling machines, closing and cap sealing machines. SG4-H can be installed within the aseptic area of a machine where the gloves give access to the operators.