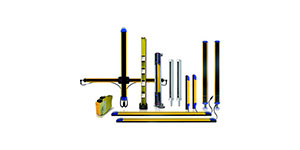 Datalogic, a global leader in Automatic Data Capture and Industrial Automation, and world-class producer of bar code readers, mobile computers, sensors for detection, measurement and safety, vision systems and laser marking equipment, today announced the release of the new SLIM Family of safety light curtains. SLIM is a little giant having small dimensions and the highest mechanical flexibility in its class.
The new SLIM safety light curtains provide a simple and flexible protection solution for many types of automatic or semi-automatic machines. Equipment used for assembly, packaging, filling, sorting, inspection, measuring, material handling and many more applications require safety curtains to protect operators. SLIM safety light curtains are designed to embed into machine structures where space saving is necessary, where small distances from the hazard zone exist and when frequent intervention of operators are required.
"The SLIM Family affords machine designers and operators unprecedented flexibility and protection in a ultra-thin form factor" states Cosimo Capuzzello, General Manager Sensors&Safety Business Unit at Datalogic. "Providing operator safety can be challenging depending on the machine design criteria. The SLIM Family can be configured to almost any size with the absence of a dead zone."
The SLIM Family offers extensive features. Three resolutions, 14mm, 24mm, and 34mm, are available. Multiple mounting options make it easy to fit to most installations. All models can be cascaded up to three units and 34 heights from 150 mm to 1200 mm provide an extensive selection that can be configured to almost any size. The unique design provides high length modularity and no dead zones. For more information visit www.datalogic.com or contact your local representative.