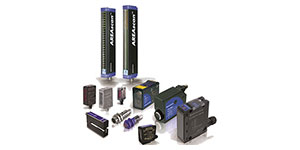 Datalogic, a global leader in Automatic Data Capture and Industrial Automation markets, and world-class producer of bar code readers, mobile computers, sensors for detection, measurement and safety, vision systems and laser marking equipment, announces the TL46-WJ Low Jitter sensor which complements the well-established Datalogic high performance contrast sensor family.
The new TL46-WJ Low Jitter detects any critical mark at speeds up to 400 m/min. Its incomparable 7µs of jitter and the outstanding operating frequency of 50 kHz make the TL46-WJ Low Jitter the most accurate and the fastest contrast sensor available. The reliable RGB emission and its rectangular spot allow the sensor to read any kind of very critical contrast in any industrial offset and flexographic printing application, including transparent and very shiny back grounds.
This new sensor is ideal for applications in flexographic printing machinery, high speed packaging applications machinery, high accuracy offset lithographic printing and much more. Designed for use in industrial environments, the TL46-WJ Low Jitter boasts a rugged aluminum housing with double insulation for protection against electrostatic shock to deliver high accuracy and high speed for many years.