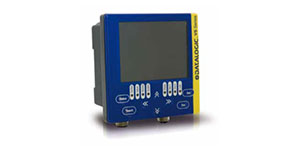 Datalogic Automation is glad to announce the official release of VSM (Vision Sensor Monitor), the new monitoring device compatible with all DataVS2 vision sensor models.
VSM is a device able to display elaborated images together with inspection results. It also allows to change the running inspection as well as to fine-tune the vision sensor functioning parameters on-the-fly.
The device integrates a 3.5'' LCD color display and 8 push buttons. It features a standard TCP/IP Ethernet interface thus it can be connected either directly to a specific vision sensor or to a Local Area Network (LAN) where more DataVS2 have been previously installed. Thanks to the accessories included in the package, the monitor can be easily installed on a DIN rail or in a panel.
Thanks to this wide range of functionalities, VSM represents an excellent and complete Human-Machine Interface (HMI) ideal for automated production lines attended by operators.