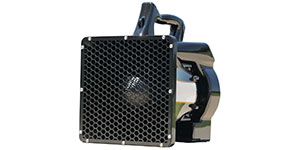 The Edwards Signaling MN-HSPB, is a self-contained, portable loudspeaker that weighs a mere 15 lbs. Despite its light weight, the Edwards Signaling MN-HSPB packs a peak acoustic output of 144dB for an intelligible communication range of more than 2,450 feet (750 m).
The Edwards Signaling MN-HSPB is equipped with internal rechargeable batteries and includes a built-in high frequency alert tone that is activated with an easily-accessible on-board pushbutton. Optional accessories include mounting options, a phone app for remote control capability, and a transit case.
The Edwards Signaling MN-HSPB is available in two versions: a standard 134 dB version and a high 144 dB output version. They replace Edwards Signaling MN-HSHHPS110 and MN-HSHHPS220 models.