Protecting Thin Frame Windows

APPLICATION

Securing Pella or sliding aluminum windows or doors which have thin window frames and limited space for mounting the switch. Sentrol's 1145-W ultra- miniature surface-mount magnetic contact, with regular or wide gap operating distance, is ideal for this application.

INSTALLATION

Determine best position for Sentrol switch and magnet. Magnet will be mounted on frame of glass.

Interlogix switch and magnet are mounted with very high bonding tape, silicon glue or brass brads, depending upon the frame material.

Clean surface with alcohol for good adhesion.

For wide gap versions, switch and magnet must be mounted with mounting holes to the "outside" in "four-corners" position (Figure 1), with Sentrol logo on switch and magnet reading from left to right. This assures proper polarity. Wide gap operating distance is 3/4" (1.9 cm) for 1145W model.

RECOMMENDED PRODUCTS

1145W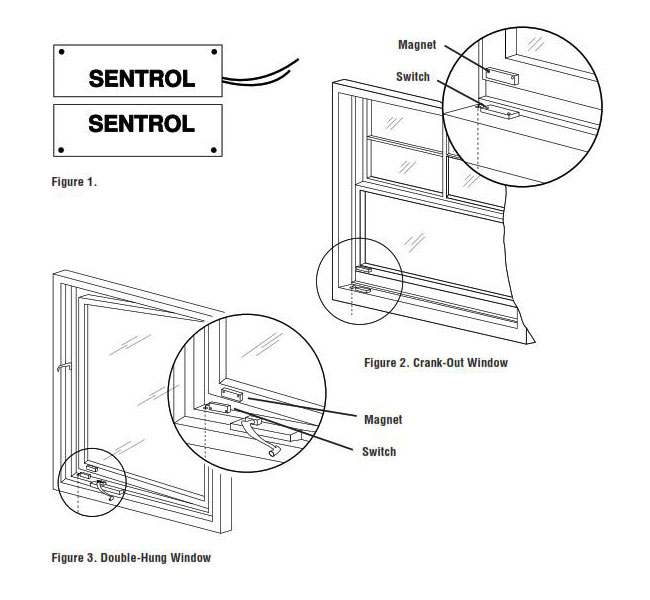 APPLICATION

Installing magnetic contacts on windows with thin steel frames when a thin section of steel presents drilling and tapping difficulties.

INSTALLATION

Use an adhesive-mount switch. Clean frame with alcohol for good adhesion. Two methods are shown - one recessed, one surface mount. Drill holes to conceal wiring if desired.

Note: The 1145W miniature contact is ideal for this application.

RECOMMENDED PRODUCTS

1035W, 1145W