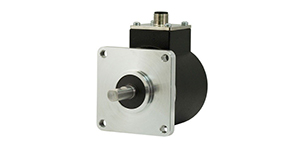 They work without notice in hot, dusty, dirty, damp, noisy, cramped spaces amidst constant shock, vibration and noise. Often, they're performing precise, demanding mission-critical duty 24/7 for months and even years on end. Meet the Encoder Products Company (EPC) Model 725I, a rotary encoder engineered for severe operating conditions, now featuring the newly upgraded Industrial Housing.
EPC introduced the original Industrial Housing to the AccuCoderTM line of high performance rotary encoders a number of years ago. For many of our customers, it's become a mainstay of heavy duty manufacturing applications. Now, the best is even better, thanks to several new upgrades incorporated by EPC's Sustaining Engineering Team.
Here's a review of the 725I Industrial Housing's features and benefits:
1. Safe and Secure: The Model 725I is an incremental rotary shaft encoder in an industry-standard Size 25 (2.5' diameter) housing. The Industrial Housing mechanically isolates the internal electronics from external conditions by means of a novel "encoder-within-an-encoder" design. The internal encoder module is secured via a separate flexible two-point mount that absorbs any residual shock and vibration.
2. New Beefier Bearings: Shaft loads are handled by a pair heavy duty bearings (80 lbs. radial, 80 lbs. axial) which are mechanically locked in place. The new bearings have double the load capacity of the previous design.
3. New IP67 Seal: A newly developed high-performance shaft seal and dual O-rings between the bearing hub and the external case permit an IP67 environmental rating, allowing exposure to pressurized water, including wash-down environments. The M12 connector also meets this requirement.
4. New Solid Construction: The bearing hub, pilot and mounting flange have been redesigned and now are machined from a single piece of metal, yielding an extremely strong and stable structure.
5. Sensor Savvy: An incremental rotary encoder, the Model 725I features EPC's Advanced Opto-ASIC board-on-a-chip sensor technology, which produces a clean, accurate square wave signal over a wide range of operating conditions. The 725I's electronics are highly resistant to shock, vibration, high temperature and particulates due to the wide sensor-to-disc air-gap afforded by EPC's Opto-ASIC sensor design. Suitable for high-precision rotary position feedback, the unit offers resolution up to 30,000 cycles per revolution and several output circuit choices
6. Highly Configurable: Multiple configuration options are available for shaft diameter, mounting face, connector, output type, voltage and other mechanical and electrical features. The industry-standard 2.5' diameter housing is compact and suitable for industrial motion control applications such as conveying, material handling, food processing, wood processing, converting, and textile machinery.
EPC is dedicated to providing feedback solutions that meet the application challenges our customers face. That's the mandate behind our drive for continuous improvement in our products, from materials specification and selection, to circuit design, and mechanical features. So, even though the ink has only just dried on the upgraded 725I Industrial Housing documentation, we'll still ask, "Now, how can we do this better?"