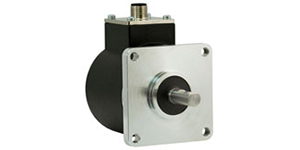 Metallurgists can expertly mix two metals to produce an alloy that accents the strengths of both components. Likewise, EPC's "encoder-ologists" have combined our rugged Size 25 Industrial Shaft Encoder Housing with our innovative magnetic multiturn absolute encoder. The result? The Model MA63S, a robust multiturn shaft encoder that delivers reliable feedback in harsh industrial environments, even in power-off scenarios.
For reliable operation, the MA63 features a magnetic-based energy harvesting technology that allows for multiturn counting without batteries or gears, regardless of power status, or shaft rotation speed or direction. Turns count data is stored in high-capacity on-board Ferroelectric Random Access Memory (FRAM). As an example of the system's capacity, if operating continously at 12,000 RPM and maximum resolution, the FRAM would not reach capacity for over eleven years. This far exceeds the data storage requirements for almost all conceivable industrial applications.
For harsh operating environments, the MA63S boasts EPC's robust "encoder-within-an-encoder" Industrial Housing design. The encoder's electronics are mechanically isolated from shock and vibration by a separate set of heavy-duty bearings, load rated at 80 lbs. axial and radial. Also, a double O-ring seal in the housing provides further protection against external hazards such as fine particles or liquids. Finally, the unit can be configured with an IP67 shaft seal to permit operation in wash-down applications.
A commonly applied industrial configuration, the size 25 housing is available with either flange or servo mounts and either 10mm or 3/8" diameter shaft. The MA63's industry-standard mechanical package aids designers with both OEM and after-market applications.
Suitable for precise motion feedback, the MA63 offers up to 14-bit single turn resolution and up to 40-bit multiturn resolution, with a choice of either SSI or CANopen communication protocols. Either a 5-pin or 8-pin M12 radial connector is available.
An external LED on the back of the housing serves as a diagnostic tool and aids with installation, set up and system trouble-shooting. The LED turns green or red and flashes in any number of sequences to indicate status.
Common industrial applications include robotics, telescopes, antennas, metal detection scanners, wind turbines, elevators, lifts, outdoor mobile equipment, automatic guided vehicles, and rotary or X/Y positioning tables.
Key Features of the MA63:
-Magnetic Sensor
-Multiturn absolute
-Turns counting with no gears or batteries
-Up to 40 bit multiturn, 14 bit single turn
-Size 25 (63mm) housing
-Industrial "encoder-in-an-encoder" housing option
-Up to IP67 seal
-80lbs axial/radial bearings
-M12 connector
-SSI or CANopen output