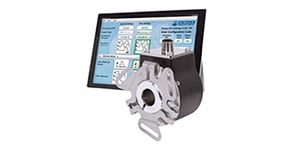 Introducing the all new Model 58TP – a 58 mm, thru-bore, programmable encoder. Contained within the rugged, industrial housing of the Model 58TP is an advanced set of electronics that allow the encoder to be programmed for exact application needs.
Programmable CPR, Output Type, & Waveform
Using EPC's optional programming module, you can program output type, waveform, and any resolution from 1 to 65,536 CPR – that's 262,144 counts using 4x quadrature counting. These programming features allow a single encoder to be configured for multiple applications, enabling one encoder to replace many different part numbers, and providing cost savings on inventory and down-time replacement.
"The Model 58TP is incredibly versatile," explains Steve Dilts, Business Development Manager. "Not only are the electronics programmable, but it's highly configurable mechanically. This 58 mm thru-bore encoder can go just about anywhere."
Versatile and Configurable
The Model 58TP offers:
-Thru-bore or hollow-bore options
-Programmable waveform – 32 options
-Programmable output type – 6 different output types
-Programmable resolution – program any resolution from 1 to 65,536 CPR
-Standard and metric bore sizes up to 5/8" or 15 mm
-Multiple flex mount options
-Seven different connector types
-Operating temperature option of -40° to 100° C
-Sealing up to IP67
Applications
The Model 58TP is a versatile, cost-effective solution for rotary feedback in many industrial and non-industrial applications, such as: motor control, conveyors, elevator controls, machine control, food processing, process control, robotics, material handling, textile machines, and all types of motion control feedback. Almost anywhere a thru-bore or hollow-bore encoder is called for, the Model 58TP will get the job done.