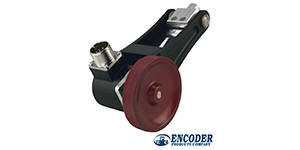 For most linear measurement applications, our line of Tru-Trac encoders are a great option. These integrated linear measurement solutions are easy to install and deliver reliable, accurate feedback for applications such as cut-to-length, spooling, length measurement, and print registration.
Occasionally, though, there is a linear measurement application that requires something our Tru-Trac™ encoders don't offer. Maybe you need absolute feedback. Maybe you need additional bearing load. Maybe you need the encoder to be programmable.
If your application calls for any of those options, we have another solution: a bracket that turns a Size 25 shaft encoder into a linear measurement solution.
Get Absolute Feedback
Our new bracket is specifically designed to fit our Size 25 shaft encoders, and that includes our absolute Model MA63S. The Model MA63S Multi-Turn Absolute Encoder is ideal for a wide variety of industrial applications that require an encoder with the capability of absolute positioning output, even in power-off scenarios. Offering either SSI or CANopen communicatoin protocols, the Model MA63S features absolute feedback with resolution up to 14 bits Single Turn and 39 bits Multi-Turn. Its fully digital output and innovative use of battery-free, multi-turn technology make the Model MA63S exceptionally reliable. The MA63's robust and durable magnetic technology and available IP67 seal readily handle the harshest industrial environments, including those with elevated electrical noise.
Need Additional Bearing Load?
For applications requiring additional bearing load, the Model 725I Accu-Coder™ features an extra-heavy-duty industrial housing. In addition to the rated bearing load of 80 lbs, the fully isolated encoder-within-an-encoder design provides an additional layer of protection by using an internal flexible mount and independent set of bearings to further protect the encoder from the effects of severe axial and radial shaft loading. ?
Program Your Encoder for Your Application
If you need resolutions beyond 10,000 CPR, the programmable Model 25SP Accu-CoderPro™ is your answer. Like the Model 725I, this shaft encoder is also designed for the challenges of an industrial environment and offers the same variety of shaft sizes, a range of connectors, and sealing up to IP67. However, the Model 25SP offers programmable output type, waveform, and resolution. There are 6 output options, 32 waveforms to choose from, and you can choose any resolution from 1 to 65,536 CPR – that's 262,144 counts using 4x quadrature counting. The Model 25SP Accu-CoderPro™ comes standard with dual bearings rated 80 lbs axial or radial, and offers up to IP67 sealing. Some configurations are in stock and ready to ship.
Two Options for Your Bracket
Both types of bracket allow for convenient mounting of an encoder and measuring wheel over the surface being measured, and both allow the assembly to adjust pitch for variations in material height.
-The Single Pivot Bracket is gravity loaded and uses the combined weight of the encoder, measuring wheel, and bracket to provide surface torsion.
-The Spring Loaded Single Pivot Bracket uses a spring-loaded bracket, which provides an adjustable surface torsion. This allows the encoder and measuring wheel to be mounted in almost any orientation, even upside down.
Determine the Right Wheel Material for Your Application
Encoder Products Company offers measuring wheels in four different contact surfaces, all made of high grade aluminum alloy. For more information on choosing the right measuring wheel for your application, refer to Technical Bulletin TB-108: Encoders with Measuring Wheels.
Rubber Insert: Rubber insert wheels have less surface area in contact with the material, so more pressure is applied, resulting in less slippage. Rubber insert wheels are good for materials such as (but not limited to): paper, film, foil, hard plastic, and other smooth materials.
Urethane: This smooth, versatile material comes in different durometer ratings (that is, degrees of hardness). Urethane is good for materials such as (but not limited to): metal pipe, sandpaper, matting, cardboard/packaging, belting, insulated wire, metal, etc.
Knurled Aluminum: Knurled aluminum offers good traction, but should not be used with delicate materials. It is a good choice for materials such as (but not limited to): metal pipe, sandpaper, matting, cardboard/packaging, belting, insulated wire, metal, coarse fabric, cloth tape, rubber, rough wood, carpet, foam, insulation, or other rugged materials that won't damage easily from constant contact with the wheel.
Hard Anodized Knurled Aluminum: Anodizing hardens the aluminum and prevents corrosion, so these wheels are good for harsh environments where there may be washdown or exposure to corrosive elements. These wheels are also not meant for delicate materials, and are excellent for materials such as (but not limited to): coarse fabric, wood (i.e., lumber cut-to-length), or other durable materials.
Ask the Experts
Not sure which linear measurement solution is right for your application? Give us a call. When you call EPC, you talk to real engineers and encoder experts who can help you specify the right encoder solution for your application.