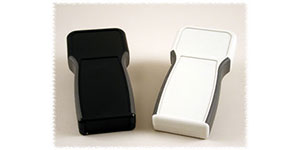 We're happy to announce that we have expanded our line of soft-sided, hand-held enclosures!
The 1553 "T" series are molded from flame retardant ABS plastic
, and include integral brash bushings which make them tough enough for repeated assembly and dis-assembly. Available with or without a battery compartment and door, these stylish and versatile enclosures are perfect for applications where a display and keypad are needed.