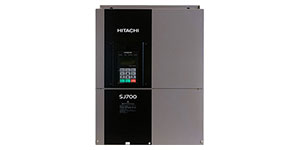 TARRYTOWN, NY (January 13, 2015) – Hitachi America, Ltd., Industrial Components and Equipment Division, today announced the introduction of the SJ700D Series of Industrial AC Variable Frequency Drives, with full availability in February. The SJ700D significantly expands on the performance, capabilities and functions of both its predecessors, the SJ700 and the SJ700B.
Hitachi has once again broadened the applicability of this new series by incorporating and upgrading many of the original flagship SJ700 features and incorporating them into a new, more versatile variable frequency drive package. Therefore, the new SJ700D drives are ideal for a complete wide range of applications beyond variable torque applications such as fans and pumps, or constant torque applications such as material handling or extrusion equipment. The new SJ700D also has a number of built-in features that make the commissioning process quick and easy, such as single parameter change (b049) to set the drive as either a variable torque or constant torque all while offering the end user a trouble-free control.
Another notable upgrade in the SJ700D dual rated inverter is the higher operating temperature range of -10°C to 50°C. The SJ700D is further enhanced from its predecessors with a new faster processing scan time for our exclusive internal programming feature, Hitachi's EzSQ (Easy Sequence), our built-in programming function, which provides the functionality of a PLC built into the inverter. Due to this internal capability, in many cases, the need for a separate PLC can be eliminated or the I/O reduced. Multiple programs for various applications such as irrigation pump control or condition specific motion profiles can be developed on a PC and then downloaded to the inverter with the easy-to-use ProDriveNext software provided at no charge from our website.
The other new helpful features Hitachi has added to the SJ700D include the changes to the EzSQ run parameters that allow an additional free intelligent input, as well as 5 retentive memory locations for use from within the program structure.
Add to these some new operational and protective features, such as output phase loss protection to make sure your application is protected from every angle, to the new faster (115.2k baud rate) Modbus RTU communications to make sure all the data necessary in your process is received in a timely manner, and we have one very versatile and powerful variable frequency drive. The SJ700D also retains all the features that make this such a popular choice, such as our patented micro-surge voltage suppression to protect the motor winding insulation, advanced trip avoidance functions, configurable sink/source logic on digital inputs, user defined analog and digital outputs, PID, built-in dynamic braking circuit in models up to 40 HP (30 kW,) and built-in EMC filters in all models.
The SJ700D incorporates all the features customers have come to expect from Hitachi Variable Frequency Drives, which provide the end user with a reliable, high quality and high value variable frequency drive.
A truly globally accepted product, the SJ700D is CE, UL, c-Tick-certified and RoHS-compliant.
For further information about the SJ700D or any other Hitachi inverter product, please contact Hitachi AC Inverters at inverterinfo@hal.hitachi.com or visit our website at www.hitachi-america.us/ice/inverters.
About Hitachi America, Ltd.
Hitachi America, Ltd., headquartered in Tarrytown, New York, a subsidiary of Hitachi, Ltd., and its subsidiary companies offer a broad range of electronics, power and industrial equipment and services, automotive products and consumer electronics with operations throughout the Americas. For more information, visit www.hitachi-america.us. For information on other Hitachi Group companies in the United States, please visit www.hitachi.us Hitachi America, Ltd., Industrial Components and Equipment Division supplies a broad range of sophisticated electrical and electronic components for application in pharmaceutical plants, food and beverage processing plants, chemical plants and other manufacturing facilities.
About Hitachi, Ltd.
Hitachi, Ltd. (TSE: 6501), headquartered in Tokyo, Japan, delivers innovations that answer society's challenges with our talented team and proven experience in global markets. The company's consolidated revenues for fiscal 2013 (ended March 31, 2014) totaled 9,616 billion yen ($93.4 billion). Hitachi is focusing more than ever on the Social Innovation Business, which includes infrastructure systems, information & telecommunication systems, power systems, construction machinery, high functional materials & components, automotive systems, healthcare and others. For more information on Hitachi, please visit the company's website at http://www.hitachi.com.