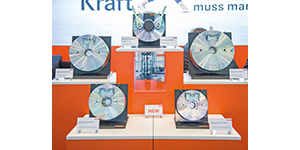 INTORQ has used the international trade fair Interlift 2017 to introduce its new brake series BFK464-R. The response of the trade audience was positive. With seven sizes and a maximum brake torque of 2 x 1,200 Nm, the redundant brake is the right solution for many elevator drives. The powerful design that uses proven technologies allows the customer a compact incorporation of the brake into a confined space and also often offers a cost advantage. Other advantages of the new product at the trade fair: High reliability thanks to a stable brake torque and fast switching, low switching noises and tested quality, global availability.
"The development of the new generation of the BFK464, the BFK464-R, focused on an increase in performance and a reduction of costs. We succeeded with this compromise between technology and costs as the market entry at the Interlift has shown. Our customers had already been very interested at the trade fair so that we will go into production this year already", says Andrea Steinberg, Key Account Manager at INTORQ.
Thanks to the performance-oriented design, the BFK464-R achieves higher brake torques than the predecessor model with the same installation space. It is therefore possible to select a smaller, more cost-effective size for the braking task. INTORQ ensures a high reliability and a stable brake torque by conducting extensive tests of the friction system under typical application conditions of the new brake. During the normal holding operation of the cabin and, of course, during an emergency, the tested system achieves reliable safety.
Short switching times of the TÜV-certified BFK464-R and the condition monitoring via a mechanical micro switch further increase the safety during the operation. Alternatively, the condition monitoring for the function and wear can also be performed by contactless sensors.
Despite the high switching dynamics, INTORQ has the brake's switching noises under control: The innovative damping system ensures a low noise level for the new brake series as well. The brake is to be incorporated into the drive either via a direct toothed shaft or a shaft-hub connection. The new brake is also flexible in terms of the hand-release, which can be retrofitted as an assembly kit at the customer's place or to the drive on site.
The rotor neck that only intrudes very little into the motor bearing shield and a short toothing of the rotor are also an advantage so that this can translate into cost benefits for the customer. A protected rotary encoder attachment for typical encoders completes the technical offer of the new brake.
"The new development is tailored to the needs of our customers and goes down well as the Interlift has already shown", says Andrea Steinberg delightedly about the redesign of INTORQ's product line. "The comparison is worth the effort for customers in the elevator sector."