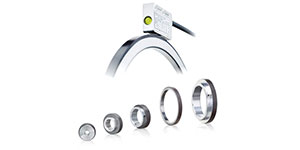 What to do if even the installation depth of miniature encoders is too large and if installation space is limited? Which rotary measuring system could fit here? The answer is given by Kübler's bearingless encoders. With a minimum installation depth of 16 millimeters, these particularly compact measuring systems can be mounted quickly and easily in the tightest installation spaces.
Reduced size does in no case mean reduced safety or performance. So, thanks to a non-contact sensor technology, this system boasts a particularly high shock and vibration resistance. The absolute freedom from wear guarantees long service life and safe and durable operation. Expensive machine downtimes thus belong to the past. The sturdy housing and the high protection level up to max. IP69k allow operation even in harsh industrial environments. This combination is totally insensitive to soiling such as dust or liquids.
The absolute measuring system RLA50 allows resolutions up to 16,000 measuring steps per revolution. Versatility is ensured by the push-pull or RS422 interfaces available for RLI20 and RLI50. Regarding performance, rotary speeds up to 12,000 revolutions per minute are possible.
Installation takes place very quickly by slipping and screwing the ring on the shaft and positioning the reading head accordingly. Also solutions for pressfitting are available. The distance between the reading head and the ring has a tolerance of up to 1.5 mm and a maximum lateral offset of +/- 1 mm. The oblong holes provided on the sensor head allow particularly easy sensor adjustment. It can optimally positioned radially and axially.
The measuring system is designed for highest adaptability, offering various ring sizes up to a hollow shaft of 390 mm. Another advantage over encoders with bearings, which allow hollow shafts up to a maximum of only 42 mm.
Various mounting possibilities are available for optimal fastening of the magnetic ring on the drive shaft: press-fit, screwed flange or hub screw ring mounting.
Bearingless encoders are used in the drives technology. Their reduced installation depth allows a slim and compact motor design. The robustness and the technology of the measuring system ensure high reliability and long service life. In brief: High plant availability.
The bearingless encoders portfolio includes incremental (RLI) and absolute singleturn variants (RLA50) with SSI or CANopen interface.