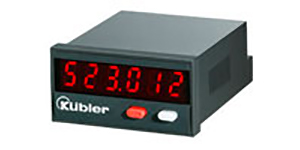 Lots of new functions, higher performance, compact design and even easier to operate - these are the trademarks of Küblers new improved CODIX displays from their 52X Series.
These well-liked CODIX displays, which come in the popular 24 x 48 mm format, have long been renowned for the many benefits they offer to customers: the units are simple to operate thanks to the clear menu-driven programming. High quality connectors save on valuable installation time. The compact design of the CODIX units makes them ideal for use where space is at a premium. The unusually bright LED display can easily be read from long distances.
Big keys incorporated into the very modern design ensure the devices are easy to operate, even when wearing gloves. Now, however, the CODIX displays offer even more advantages. Firstly they are faster - on average their count speed is 2.5 times higher and they are ready for use after only 16ms. Secondly they now boast more functions.
Many more programming choices are on offer. Division factors are now possible in the timers, as well as a SET function. A faster measuring method for the tachometer, as well as extended counting functions such as Up.Up (total information of both inputs) and Quad4 (phase discriminator with pulse quadrupling), open up new applications for the user this offering him increased flexibility.
Versions that accept 5V signal levels are also available as standard. And thirdly they are now even easier to operate - even though there are more programming options. The devices are ideally suited for use as totalizers, timers, elapsed time meters, frequency meters and tachometers. A single universal multi-purpose unit can display both total count and frequency, or it can instead act as a dual totalizer, or display total and time or it can alternatively be programmed to function as a dual timer. Or the multi-functional unit, which can be programmed to display the function, count, frequency and time.
One model incorporates the functionality of four different devices, offering flexibility to the user and saving on expensive stock costs! Worthy here of special mention is the new CODIX 52P, which incorporates a position indicator and tachometer in one unit. This combination with separate inputs is ideally suited to applications where both rotational speed and position must be monitored simultaneously - as for example with drilling machines.
The devices in this new CODIX series are fully compatible with previous models but offer greater performance at the same price. They meet the ever increasing demands of the automation industry, whilst at the same time addressing perfectly a wide variety of applications.