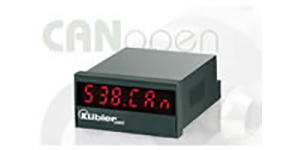 The new CODIX 538 from Kübler can be integrated without difficulty into any CAN or CANopen network in order to display locally any user-defined value. Numerical values can be directly scaled using a factor or offset from the display device. The display has a floating decimal point that can be inserted in any position.
CAN encoders can be read out directly, thanks to the Automatic Operational Mode. The CAN-compliant display device is particularly easy to integrate, as it possesses automatic baud rate recognition and up to 16 node numbers that can be set easily via rotary switches.
CODIX 538 supports CAN specifications 2.0A and 2.0B and a communication speed of up to 1 Mbit/s. The unit comes equipped with a 6 digit 8mm high red 7 segment bright LED display. Each segment can be directly written to, allowing not only values to be displayed but text messages also. There will always be room for the display, thanks to its DIN housing that measures only 48mm x 24mm, with an installation depth of just 59mm. Reverse polarity protection likewise facilitates installation. On account of its high IP65 protection rating (from the front) the display can be easily used in industrial environments without the need for an additional protective housing.