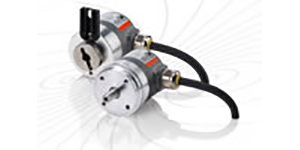 Powerful, compact and rugged - this is how the new incremental encoders from Kübler can best be described.
Both the shaft encoder series 3610 as well as the hollow shaft series 3620 with through bore are perfectly suited for use in machine building, vehicles, lifts and conveyors as well as for servo and geared motors. A space-saving compact design construction allows for an ideal outside diameter of 36 mm for both incremental encoders. This means that both these newcomers from Kübler guarantee peak performance even in the tightest of spaces: pulse rates of up to 3600 ppr are possible at up to 12,000 rpm and with temperatures ranging from -30C up to +90C. Their high shock resistance ensures they are not affected by external influences.
With this new shaft encoder series 3610 and the hollow shaft encoder series 3620, Kübler has just expanded its economy encoder range by two high performance devices, both at very attractive prices. In order to answer the individual demands of the user, the rugged metal housing is available with a new design variant: in the modular system the flange can be selected according to the relevant field service conditions. The outside shaft diameter can measure up to 6 mm and the hollow shaft can have a bore diameter up to 8 mm.
The new incremental encoders are based on the proven technology of the miniature encoder series 2400 and 2420, which even carry approvals for difficult railway applications. With IP65 protection and a chromated (chromium plated) housing that is resistant to the harmful effects of coolants and other chemicals, these devices are equipped to handle the toughest environmental conditions. For even greater functional security, the units have short-circuit proof outputs and reverse polarity protection on the supply voltage input.
The Kübler miniature encoders distinguish themselves from traditional products through the far superior strain relief of their C-track compatible cable. A standard cable grommet with 6-times additional clamping ensures considerably higher strain relief values and thus a longer service life for constantly moving cables.