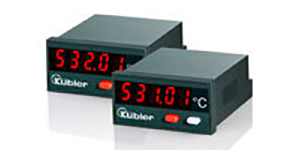 Kubler from Germany presents two new micro processor based temperature indicators (Codix 531, 532) for resistance temperature measurement and thermocouple sensors. Both LED units come with full galvanic insulation in a DIN 48 x 24 mm IP 65 protected enclosure. Very simple set-up, maximum and minimum temperature storage capability at an attractive pricing are further key advantages of these compact indicators.
Codix 531 is designed for Pt100 and Ni100 sensors, while Codix 532 operates with J, K or N s-type sensors. An integrated DC-DC converter ensures a galvanic insultation between the power supply and the sensor input signals. Reverse voltage protection makes the units safe against misconnection. A 5 digit LED display with 8 mm digit height features superb luminiscence and ensures clear visibility of the display from longer ditances or in dark surroundings. Temperature in °C or °F is user-selectable, as is the resolution of up to 0,1 °C or 0,1 °F.
A latch input freezes the display if required. The inputs of Codix 531 are suitable for 2-, 3- or 4-wire technology while Codix 532 incorporates an internal and external temperature comparator. Latter ensures that temperatures are always measured correctly regardless environmental temperatures. A automatic Minimum and Maximum temperature storage capability adds extra benefit to the unit. The Power supply is 10-30 VDC. Screw terminal connection in a 5 mm grid up to 4mm2 make installation simple and safe.